New 'Man Of Steel' Set Photos Feature A Different Looking Henry Cavill As Clark Kent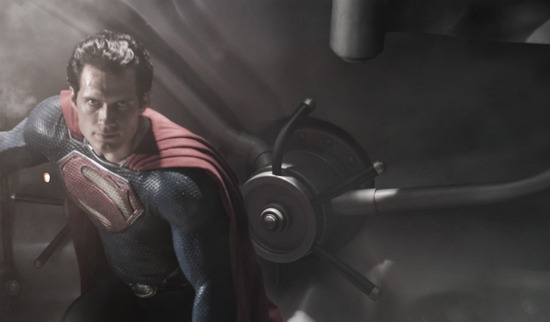 After shooting all across the great state of Illinois, Zack Snyder is now in Vancouver filming his new Superman film Man of Steel. Since production moved North of the border, spy photos have to hard to come by because most of the filming has been on closed sets and those sets, according to co-star Michael Shannon, are like walking onto another world. Spy photographers were able to snag a look at Russell Crowe at Jor-El as when he grabbed a smoke out in the open but that's been about it.
A bunch of new photos have now been snapped showing the film's star, Henry Cavill, with a look that's decidedly unlike the Clark Kent or Superman we're used to. What does it mean? Find out after the jump but these should definitely be considered spoilers.
Thanks to Socialite Life (via Comic Book Movie) for these images which should be considered spoilers. Visit there for more and bigger images.
[No photo]
So what is Clark Kent doing looking homeless in the rain with a beard and dog? It probably has something to do with a scene we know they're filming at a fishing village. The production were looking for extras for that a few weeks back. What happens in a fishing village with a bearded Superman though? No idea.
Here's the previously released plot description of Man of Steel. Maybe these photos are from the "Why am I here?" section.
In the pantheon of superheroes, Superman is the most recognized and revered character of all time. Clark Kent/Kal-El (Cavill) is a young twentysomething journalist who feels alienated by powers beyond anyone's imagination. Transported to Earth years ago from Krypton, an advanced alien planet, Clark struggles with the ultimate question – Why am I here? Shaped by the values of his adoptive parents Martha (Lane) and Jonathan Kent (Costner), Clark soon discovers that having super abilities means making very difficult decisions. But when the world needs stability the most, it comes under attack. Will his abilities be used to maintain peace or ultimately used to divide and conquer? Clark must become the hero known as "Superman," not only to shine as the world's last beacon of hope but to protect the ones he loves.