'X-Men: First Class' Writers To Adapt Fantasy Novel 'The Magicians' For Fox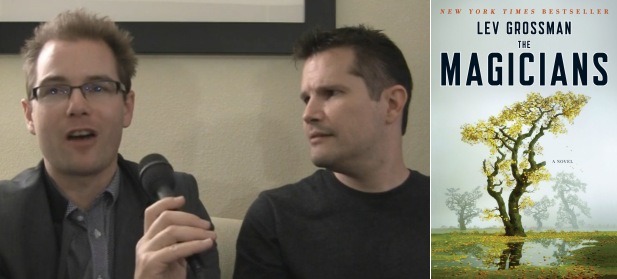 We may receive a commission on purchases made from links.
Keeping with the trend of contemporary fantasy series, a la ABC's Once Upon a Time and NBC's Grimm, Fox has given a script order to an hourlong drama based on Lev Grossman's novel The Magicians. X-Men: First Class co-writers Ashley Miller and Zack Stentz have been tapped to write, with Michael London (Milk), Shawn Levy (Real Steel), and Michael Adelstein producing. The "Harry Potter for grown-ups" show will center around a group of 20-somethings in New York City who are studying magic. More details after the jump.
Stentz and Miller's most recent screenwriting successes were this summer's Thor and X-Men: First Class. However, the two actually have more experience in television, having written for Andromeda, Terminator: The Sarah Connor Chronicles, and Fringe. The pair clearly know a thing or two about mixing out-there elements with more traditional drama, which bodes well for The Magicians.
Here's the synopsis of The Magicians from Amazon.com, where used copies are currently going for $1.99 and up:
Mixing the magic of beloved children's fantasy classics (from Narnia and Oz to Harry Potter and Earthsea) with the sex, excess, angst, and anticlimax of life in college and beyond, Lev Grossman's Magicians reimagines modern-day fantasy for grownups. Quentin Coldwater lives in a state of perpetual melancholy, privately obsessed with his childhood books about the enchanted land of Fillory. When he's admitted to the surreptitious Brakebills Academy for an education in magic, Quentin finds mastering spells is tedious (and love is even more fraught). He also discovers his power has thrilling potential–though it's unclear what he should do with it once he's moved with his new magician cohorts to New York City. Then they discover the magical land of Fillory is real and launch an expedition to use their powers to set things right in the kingdom–which, naturally, turns out to be a much murkier proposition than expected. The Magicians breathes life into a cast of characters you want to know–if the people you want to know are charismatic, brilliant, complex, flawed magicians–and does what Quentin claims books never really manage to do: "get you out, really out, of where you were and into somewhere better. " Or if not better, at least a heck of a lot more interesting.