'Transformers: The Ride' Trailers And Photos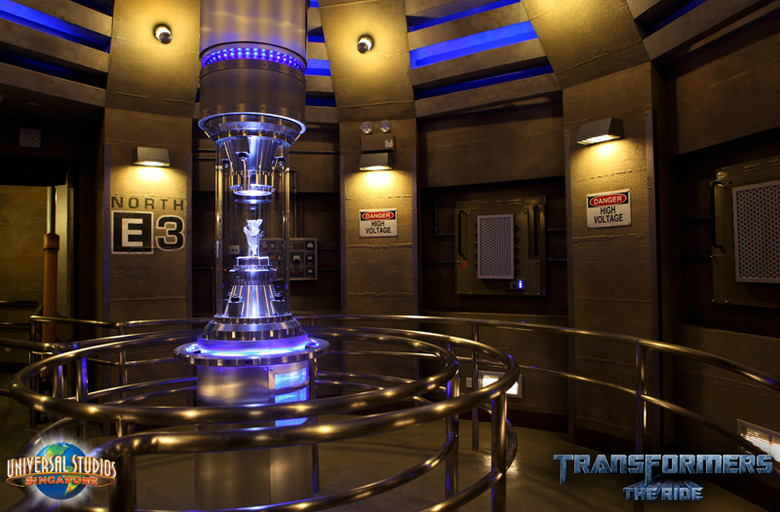 Movies getting made into huge theme park rides isn't anything new. Star Wars was turned to Star Tours over two decades ago and just got a big reboot. Harry Potter has his own land, Spider-Man and The Simpsons have advanced 3D rides and that's just the tip of the iceberg. The next franchise to be turned into a massive attraction is Transformers as Transformers: The Ride is set to first open at Universal Studios Singapore in December 2011 and Universal Studio Hollywood in Spring 2012.
After the jump, we've got a few sneak peaks at the ride including some teaser footage and photos of the in-depth queue.
First up is this trailer that premiered a few months ago but we hadn't seen yet.
.
Next is an introduction video from the Transformers: The Ride blog.
That same site has two exclusive images from the ride queue in Singapore: The NEST orientation room as well as the All-Spark Vault at NEST.
The creative director of the ride, Thierry Coup, described the experience as follows:
The technology at TRANSFORMERS The Ride is something the world has never experienced before in an attraction. The motion base simulator system integrated into the ride vehicle is state-of-the-art, together with ILM photo-realistic 3-D projections, will create an experience that is going to be a thrilling breakthrough in ride experience.
In a previous article, Peter had some addition information. If you click that link, you can see a bunch of concept image that almost exactly matches the actual images above.
The ride will use High Definition 3D footage, along with practical special effects and "stunning" robotics (ie expect giant animatronic robots) to "place humans in the middle of a war between the Autobots and Decepticons". It is expected to use the same ride system of The Amazing Adventures of Spider-Man ride from Universal's Islands of Adventure. The new ride lasts five minutes, a quarter of a mile, with the ride vehicles rising to 60 feet in the air.
This should be awesome. Everyone excited?