Cinematic TV Bits: Hulu And IFC Eyeing 'Arrested Development', 'Mr. Ed' Heads To Big Screen, 'Universal Solider' Coming To Small Screen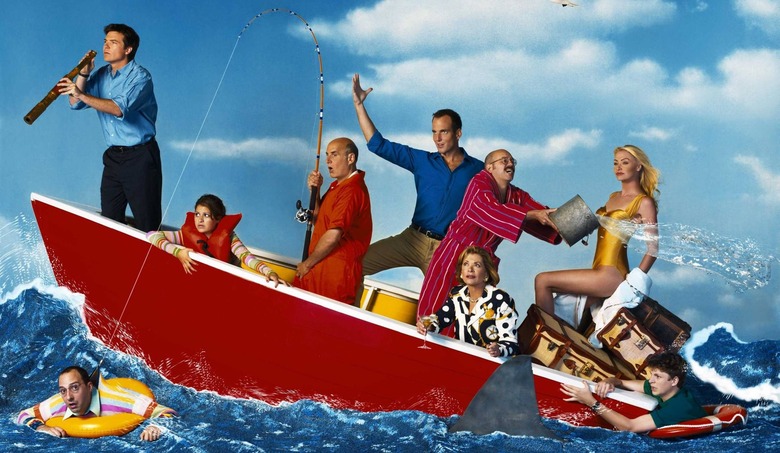 In today's extra-cinematic edition of TV Bits, a film franchise gets adapted into television series, a classic show turns into a movie, and a certain brilliant-but-cancelled television series that's been trying to get a big-screen sequel off the ground looks increasingly likely to make a temporary return to the small-screen. After the jump, read about:
Hulu and IFC's interest in new episodes of Arrested Development
The big-screen adaptation of the classic talking horse series Mr. Ed
The development of a series based on film franchise Universal Soldier
Vulture writes that Arrested Development episodes, clips, and other related videos have been streamed about 100 million times on Hulu since the site premiered in 2008 — and that's without online exclusivity, as Netflix also offers the series on its streaming service. Either service could get a big boost by picking up exclusive rights to stream new episodes, and both companies could really use that help. IFC, meanwhile, has shown reruns of Arrested Development in the past, so the cable channel could be a good fit for additional installments of the series.
As previously reported, each of the miniseries' nine or ten episodes will focus on one character, catching us up on what he or she has been up to for the last several years. The fact that the limited series is garnering so much interest seems like one of the more promising signs we've seen in a while for the return of Arrested Development. Maybe this movie will really happen after all! [via Cinema Blend]
Fox 2000 has picked up the movie rights to Mr. Ed, the classic '60s series about a talking horse. David Friendly and Jim Mahoney are set to produce the live-action film, which will star a real horse with a CG-animated mouth. The search for a writer is expected to begin shortly.
Part of the reason Fox was interested in the property is the studio's previous successes with animal-centric films. "It's always the perfect time for a four-quadrant family movie," said Friendly. "Those are the movies that have the strongest pull. As a producer, I try to envision the poster and this one looks pretty good coming from the studio behind Marley & Me and Alvin and the Chipmunks." Mahoney executive produced a TV movie version of Mr. Ed in 2004, with Sherman Hemsley as the voice of the titular creature. [Variety]
FremantleMedia Enterprises will be rebooting the film franchise Universal Soldier as a television series, with Damian Kindler (Stargate) set to write and Allen Shapiro and Craig Baumgarten signed on to executive produce. The sci-fi action film series launched in 1992 with Roland Emmerich's Universal Soldier, starring Jean-Claude Van Damme and Dolph Lundgren as soldiers brought back to life. Since then, the franchise has released two theatrical sequels and three direct-to-DVD follow-ups; another big-screen installment is in the works.
"We've long wanted to come up with a bold new way of updating Universal Soldier," said Shapiro and Baumgarten. "We're thrilled to team up with FremantleMedia and are sure that the millions of fans who loved the movie will now welcome it into their living rooms." The project will be shopped to international buyers. [SuperHeroHype]