Robert Downey Jr. May Revive 'Perry Mason' For The Big Screen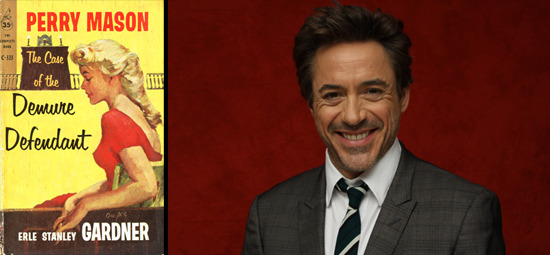 This week has been packed with news about TV shows moving to the big screen, and vice versa, beginning with the news of a really and truly possible Arrested Development movie, and moving into other, less promising properties. (Does anyone really want a Mr. Ed movie?)
Now it is Perry Mason's turn, as Robert Downey, Jr. and his wife and producer Susan Downey are working with Warner Bros. on a revival of the beloved defense attorney character. This version of Perry Mason will actually hew closer to the original novels by Erle Stanley Gardner than the first run of the television series that starred Raymond Burr and ran from '57 to '66, with later TV episodes and movies following.
Variety says that Perry Mason will be a period piece, "set in the rough and tumble world of early 1930s Los Angeles, and feature fan favorites such as Mason's secretary, Della Street, private investigator Paul Drake, and Mason's longtime courtroom nemesis, Hamilton Burger." Oddly enough, most of the 80+ Perry Mason novels by Gardner are out of print, so it isn't even as if WB is looking to loot some upsurge in public interest for the books.
(Does this mean Warner Bros. really likes the reception that period pieces like J. Edgar and the still-shooting Gangster Squad are getting?)
While the tone and character will be based on Gardner's novels, the film won't actually adapt any one; rather, Perry Mason will be based on an original story by Downey and producer David Gambino. A writer hasn't even been hired yet, so this one is a ways off, and Downey could end up not playing the character after all once a script is delivered.
If you don't know anything about the character, it might be best to go to the description Gardner wrote for Mason in his debut novel:
You'll find that I'm a lawyer who has specialized in trial work, and in a lot of criminal work...I'm a specialist on getting people out of trouble. They come to me when they're in all sorts of trouble, and I work them out...If you look me up through some family lawyer or some corporation lawyer, he'll probably tell you that I'm a shyster. If you look me up through some chap in the District Attorney's office, he'll tell you that I'm a dangerous antagonist but he doesn't know very much about me.