Five 'Hunger Games' District Seals Revealed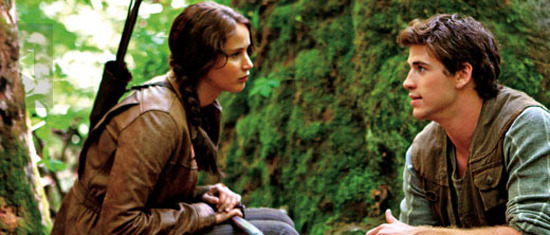 It's been relatively quiet on the Hunger Games front recently, so Lionsgate has just unveiled five new images to remind you that the film is still coming. And, oh yeah, while we're on the subject, they're also reminding us to go register at the website and Like the movie on Facebook. Each of the five images features a seal representing one of twelve Districts, which in the story comprise the dystopian future nation of Panem.
Directed by Gary Ross and based on a popular YA novel by Suzanne Collins, The Hunger Games stars Jennifer Lawrence as tough 16-year-old Katniss Everdeen, who gets sent to the Capitol to compete for her district in a fight to the death against other teenagers. Liam Hemsworth, Josh Hutcherson, Woody Harrelson, Elizabeth Banks, and Lenny Kravitz also star. Check out the new posters after the jump.
[via First Showing]
In The Hunger Games, each of the districts specializes in a particular industry. The ones represented here are 2 – Masonry, 7 – Lumber, 8 – Textiles, 9 – Grain, and Katniss' home district, 12 – Mining. (Click on any of the links above to go to each district's Facebook page.) A quick glance at the official Hunger Games — I'm sorry, Capitol — website calendar suggests we'll probably seeing another poster each day until all twelve are revealed. Registering with the website will get you a district assignment, at which point you can create a nifty ID card, like so: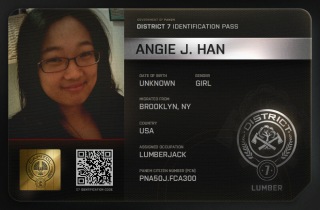 Apparently, I'm a lumberjack.
The first of a planned four-film series, The Hunger Games is scheduled to hit theaters March 23, 2012. Here's a more detailed synopsis of the story:
Every year in the ruins of what was once North America, the nation of Panem forces each of its twelve districts to send a teenage boy and girl to compete in the Hunger Games. Part twisted entertainment, part government intimidation tactic, the Hunger Games are a nationally televised event in which "Tributes" must fight with one another until one survivor remains. Pitted against highly-trained Tributes who have prepared for these Games their entire lives, Katniss is forced to rely upon her sharp instincts as well as the mentorship of drunken former victor Haymitch Abernathy. If she's ever to return home to District 12, Katniss must make impossible choices in the arena that weigh survival against humanity and life against love.