'The Adventures Of Tintin' Trailer Reveals Steven Spielberg's Mocaped 'Indiana Jones'-Style Action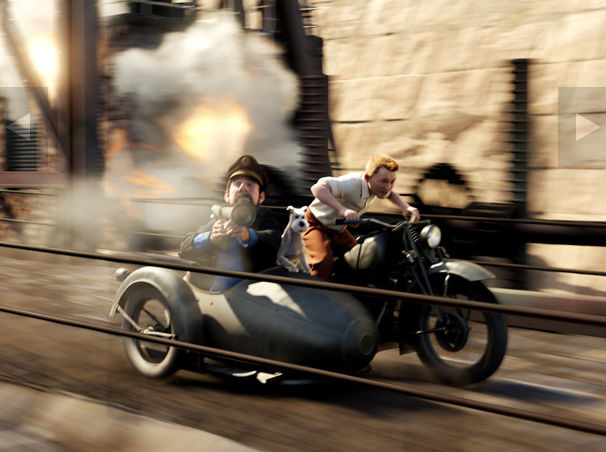 Paramount Pictures has released a new international movie trailer for the Peter Jackson-produced Steven Spielberg-directed performance capture animated adaptation of The Adventures of Tintin. If you were skeptical after the initial teaser trailer, this full length preview might just win you over. Its great to actually see more action this time around. I have to admit, the action sequences feel more like a modern Indiana Jones film than Crystal Skull. Watch the trailer now embedded after the jump. Please leave your thoughts in the comments below.
The trailer premiered on MSN UK:
Watch the trailer in high definition on Apple, or in standard definition on Empire.
"THE ADVENTURES OF TINTIN"
Paramount Pictures and Columbia Pictures Present
An Amblin Entertainment Production
A Wingnut Films Production
A Kennedy/Marshall Production
A Steven Spielberg Film
"The Adventures of Tintin"
Executive Producers Nick Rodwell Stephane Sperry Ken Kamins
Producers Steven Spielberg Peter Jackson Kathleen Kennedy
Screenplay by Steven Moffat, Edgar Wright and Joe Cornish
Based on The Adventures of Tintin by Hergé
Directed by Steven Spielberg
Cast: Jamie Bell, Andy Serkis, Daniel Craig, Simon Pegg, Nick Frost, Gad Elmaleh, Toby Jones and Mackenzie Crook.Synopsis: Paramount Pictures and Columbia Pictures Present a 3D Motion Capture Film "The Adventures of Tintin" directed by Steven Spielberg from a screenplay by Steven Moffat and Edgar Wright & Joe Cornish. Starring Jamie Bell ("Billy Elliot," "Defiance") as Tintin, the intrepid young reporter whose relentless pursuit of a good story thrusts him into a world of high adventure, and Daniel Craig ("Quantum of Solace," "Defiance") as the nefarious Red Rackham.
Based on the series of books The Adventures of Tintin by Hergé, the film is produced by Steven Spielberg, Peter Jackson and Kathleen Kennedy.
December 21, 2011