8 New Character Posters For 'A Very Harold And Kumar 3D Christmas'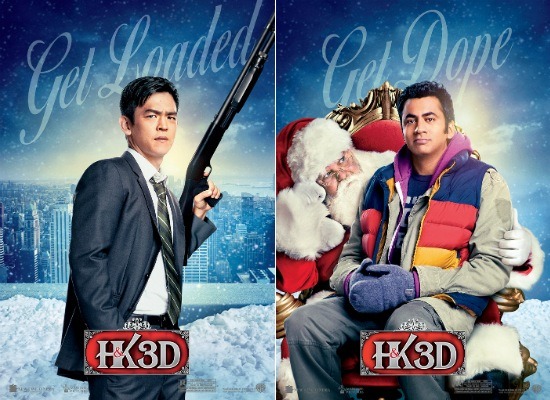 Considering A Very Harold and Kumar Christmas is a 3D, drug-induced Christmas story, it's obviously going to be crazy. The first trailer bolstered that point as did the first batch of posters. Yahoo has just premiered a new batch of posters and after looking at these, "crazy" doesn't seem to be a strong enough word to describe what we're going to see come November 4. Of course, there's Harold (John Cho) and Kumar (Kal Penn) as seen above, but after the jump you'll see Neil Patrick Harris with a big stick, a stoned Santa Claus, Jesus Christ, a creepy Danny Trejo and much more.
Thanks to Yahoo Movies for the posters.
Here's the official plot description for A Very Harold & Kumar 3D Christmas:
After years of growing apart, Harold Lee and Kumar Patel have replaced each other with new friends and are preparing for their respective Yuletide celebrations. But when a mysterious package mistakenly arrives at Kumar's door on Christmas Eve, his attempt to redirect it to Harold's house ends with the "high grade" contents — and Harold's father-in-law's prize Christmas tree — going up in smoke. With his in-laws out of the house for the day, Harold decides to cover his tracks, rather than come clean. Reluctantly embarking on another ill-advised journey with Kumar through New York City, their search for the perfect replacement tree takes them through party heaven — and almost blows Christmas Eve sky high.
Odds are this movie is going to be terrible but hopefully it's terrible in a really fun, entertaining way. I think the second one falls into that category so I'm definitely excited for the sequel. What about you?