'Vs' Trailer – A Superhero/Horror Mashup By 'The FP' Co-Director Jason Trost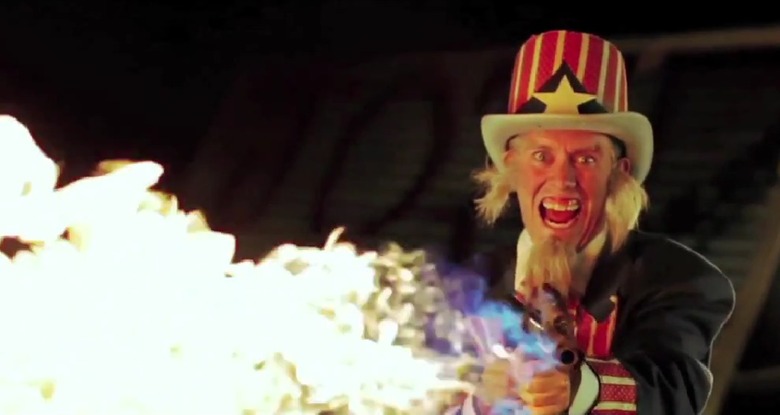 The superhero-supervillain showdown is a staple of any costumed-hero flick, but writer/director Jason Trost's indie thriller Vs takes it to a whole new level by expanding that central conflict and mixing in an element of horror. Described as "Kick-Ass meets Saw," Vs revolves around a quartet of young superheroes who are forced by their archnemesis Rickshaw (James Remar) to pass a series of deadly tests, lest he destroy the 100 innocent civilians he's kidnapped. Lucas Till (X-Men: First Class), Sean Whalen, Nick Principe, Sophie Merkley, and Trost also star. Watch the trailer after the jump.
[via First Showing]
Maybe it's because I've never been into the Saw films to begin with, so the premise doesn't automatically rouse my interest, but this trailer just leaves me cold. The villain isn't especially engaging, the heroes even less so, and there isn't enough action, violence, or gore to draw me in on that level. It's not clear to me whether the film is supposed to be darkly comedic (that Uncle Sam in the header image has to be played for laughs, right?) or deadly serious, but either way the trailer's not doing a great job getting the tone across. Oh, well — here's hoping the actual movie is better than the trailer.
Trost was one of the guys behind the retrofuturistic post-apocalyptic video-game-dancing indie The FP, which garnered tons of buzz at this year's SXSW for its weird, wildly imaginative vision. Vs is his second feature, and his first as a solo director. According to IMDb, his next project will be Vacation 8, also starring Remar and Till. Of course, IMDb also states that Trost "is the creator of his own nameless deadly martial arts form that he has developed since the age of 5. The form was banned from US tournaments for being deemed "Too Deadly" [sic] — so maybe we should take their info with a grain of salt.
Vs is set to premiere at Toronto After Dark, which kicks off October 20. Check the official site for more info.Discuss: Vs: Yea or nay?