Superhero Bits: Beware The Batman, Punisher: War Zone, The Avengers, Thor 2, Dark Knight Rises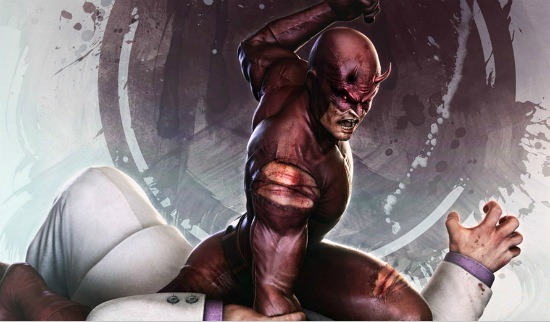 Want to hear comedians Paul Scheer and Patton Oswalt dissect what went wrong on Punisher: War Zone? Which members of The Avengers are going to be at New York Comic-Con? Will Juno Temple address the rumors about her character in The Dark Knight Rises? Is Showtime's Dexter just a modern take on the superhero? What's the title of the new animated Batman series scheduled for 2013? Read about all of this and more in today's Superhero Bits.
Spider-Man: Edge of Time is released today and here's the launch trailer via Superhero Hype.
The official press release is out and Kevin Feige (Producer), Chris Evans (Captain America), Tom Hiddleston (Loki), Clark Gregg (Agent Coulson), and Cobie Smulders (Agent Hill) will be at New York Comic Con on October 15 to present new footage from The Avengers.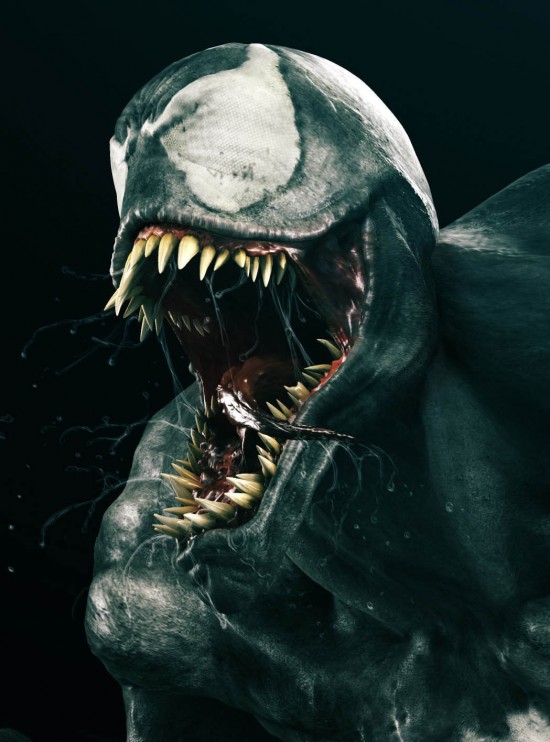 Brazilian artist André Holzmeister has posted this cool 3D rendering of Venom on Cool Vibe.
Comedian and pop culture enthusiast Paul Scheer has an awesome podcast called How Did This Get Made? where they talk to filmmakers of awful movies and figure out how the movie got made. The latest episode features Lexi Alexander, director of Punisher: War Zone and comedian Patton Oswalt, one of the film's biggest fans, discussing how the movie got made. Head to Earwolf to download the episode. (Note that if you're in LA, you can see Oswalt introduce War Zone tonight at the New Beverly Cinema; he'll have Lexi Alexander on stage for a post-show Q&A, too.)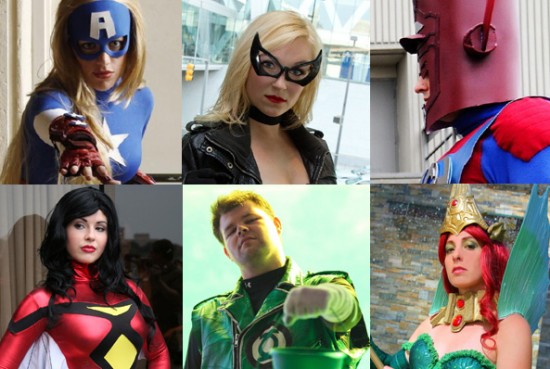 Another month, another gallery of cool cosplay on Gamma Squad.
World's Finest, via Superhero Hype, reveals a new Batman animated series will premiere in 2013 called Beware the Batman. Here's some more details:
The next Batman animated series, debuting in 2013, is titled Beware the Batman. According to Register, the CGI animated series will spotlight a classic-looking Batman teaming up with a gun-toting Alfred Pennyworth and a female ninja sidekick. Beware the Batman is executive-produced by Glen Murakami, and will explore the mythology's more obscure villains, such as Professor Pyg, but also won't shy away from featuring some of the more well-known Batman foes. In the series, Batman will team up with a younger female sidekick named Katana. During the keynote, Register added that Katana will fill the sidekick role, but won't be a replacement for Robin.
Get More: Movie Trailers, Movies Blog
Rumors have been circling for months about Juno Temple's role in Christopher Nolan's The Dark Knight Rises and above she avoids the topic while talking with MTV Movies.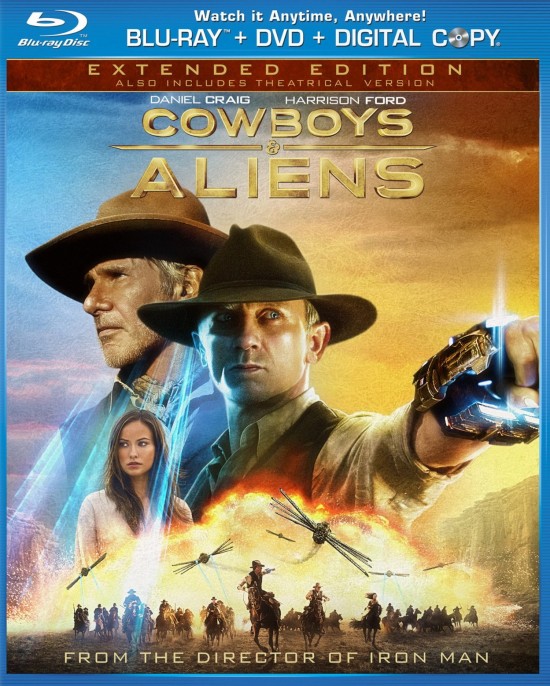 Blu-ray.com (via CBM) has posted what could very well be the Blu-ray cover for Cowboys & Aliens. No word on a release date though.
Due to the amount of graphics and images included in Superhero Bits, we have to split this post over TWO pages. Click the link above to continue to the second page of Superhero Bits.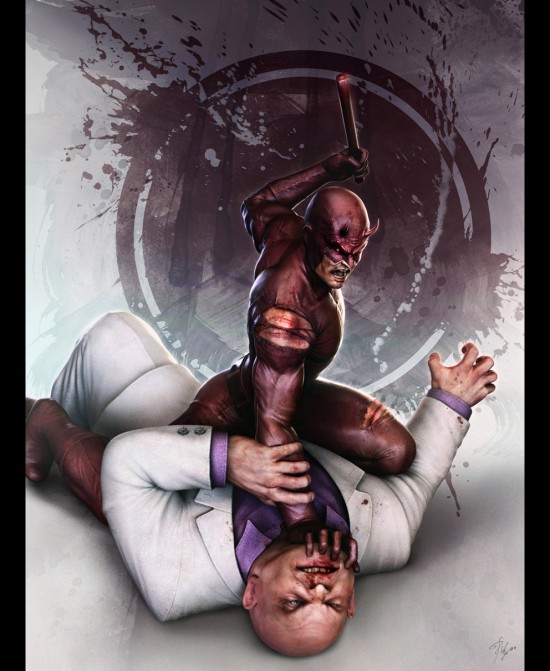 Philip Herman needs to get hired on the David Slade Daredevil movie. Look at this great piece of Cool Vibe art he did of DD vs. Kingpin.Image Comics has joined the ComiXology app so you can ready their comics electronically. Thanks to Tuaw.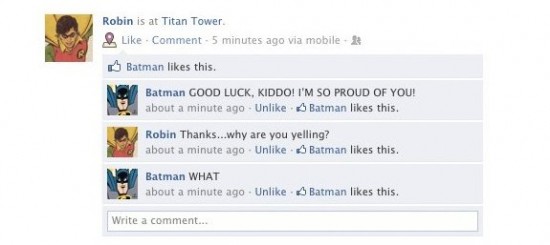 We're still at the point where these Facebook comics are funny. However it's getting dangerously close to being over. For now, though, this comic that shows Batman stalking Robin is still pretty comical. Head over to Dorkly (via Nerd Approved) to read the rest.
IGN has an interesting article that surmises Dexter, the Showtime serial killer show, is pretty much just a superhero show. They make some great points.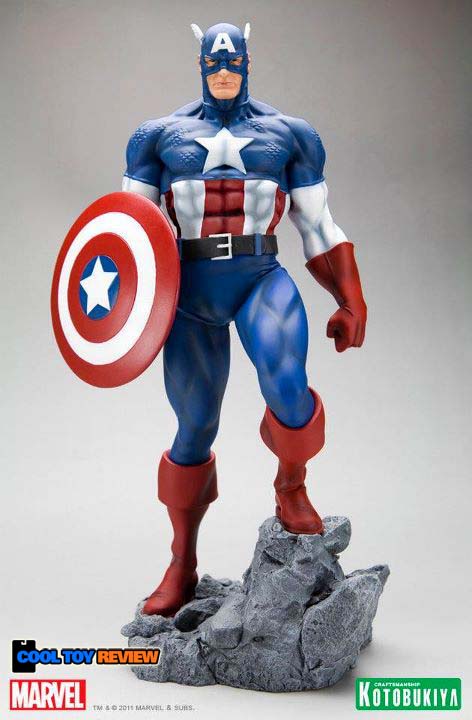 Cool Toy Review has a write up on Kotobukiya's new Captain America.Josh Dallas, who plays Fandrall in Thor, spoke to IGN Movies and confirmed he'll be back for Thor 2 and seems to think Patty Jenkins is a lock to direct. Read more at that link, but here's a quote:
We are! We are planning a return to Asgard, next year. Thor 2 is happening. A great director called Patty Jenkins is directing the sequel. Ken [Branagh] is not directing, which is obviously a huge shame, because he came in and created that world and created the language and the look of the whole thing. But he's kind of set it all up for us and I think he's staying on as a producer. But yeah, there's going to be some more adventures in the Nine Realms.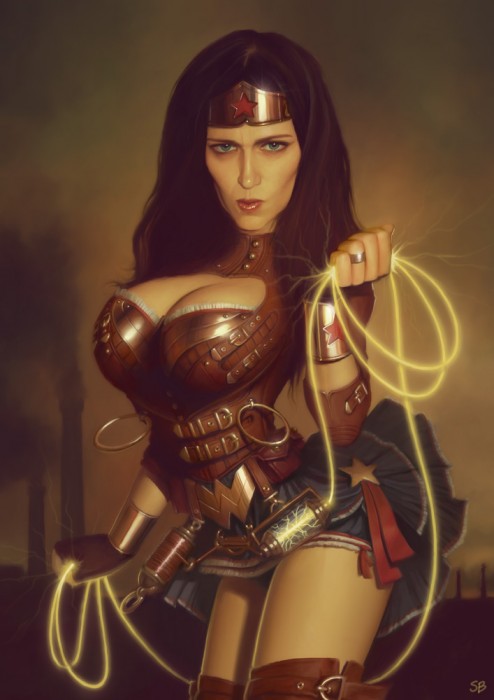 This would be more exciting if it was real but Papaninja has drawn this buxom Steampunk Wonder Woman via My Confined Space.