'Arthur Christmas' US And UK Theatrical Trailers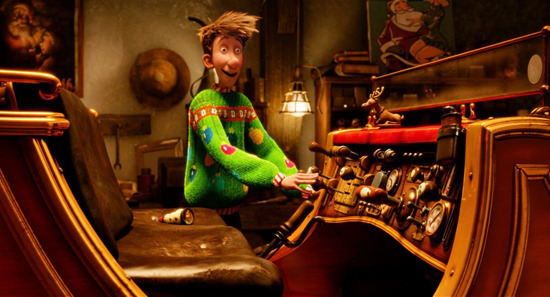 We've seen a couple teaser trailers for the Aardman Animation holiday film Arthur Christmas, and now, two full-length trailers are out. The UK trailer still shows a lot of the elements we've seen before — the North Pole as a high-tech gift processing center; Santa's sleigh as UFO; and the geeky younger member of Santa's family who acts as the title character — but it also shows off a lot more of the actual story that puts all those elements to work. There are also a few good, cheeky little jokes. And the US trailer has a slightly different approach to the same elements. Check out the trailers below. (Oh, and there are lions, too.)
Here's the UK trailer, via MSN.
I do like the lions, and kinda love the cheeky joke about teaching women to read. I like when weird stuff like that slips into a kids' film.
And here's the US one, via Yahoo, which also has HD:
Arthur LOVES everything to do with Christmas; indeed, he is the only one in his family still captivated by the magic of the holiday. Laurie will play Arthur's older brother Steve, heir to the reins, a cool, incredibly capable guy who has given the North Pole high-tech efficiency, military-style precision. Broadbent plays Santa, who pictures himself as the guy in charge at the North Pole, but is now more of a figurehead as the operation has outgrown him. Nighy plays Santa's 136-year-old father, Grandsanta, a cranky old codger who hates the modern world, is always grumbling that Christmas 'was better when I was Santa' and has a tense relationship with Steve, who he calls 'A postman with a spaceship.' Jensen will play Bryony, a lowly elf from the Giftwrap Battalion, with an eager-to-please attitude and an obsession with wrapping and bows. Imelda Staunton rounds out the cast as Mrs. Santa, dedicated wife and mother to her husband and sons.
Sarah Smith directed, with Barry Cook co-directing. The script is by Sarah Smith and Borat screenwriter Peter Baynham.