'Norman' Trailer – 'Easy A' Star Dan Byrd Is A Teenage Misfit, Again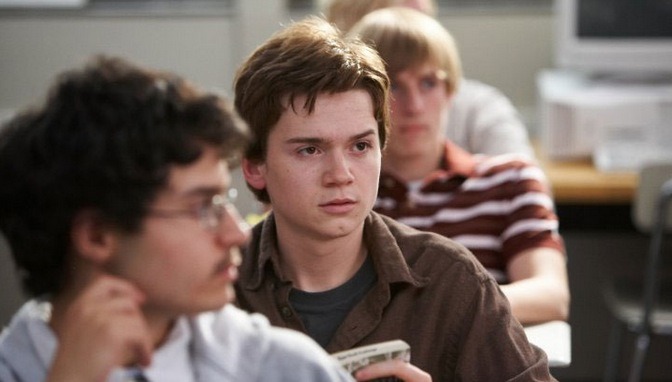 Aw, poor Dan Byrd. The kid who had such a tough time getting through high school in Easy A is having teenage misfit woes all over again in Norman, the second feature by director Jonathan Segal. Byrd stars as the title character, who's just lost his mother to a car accident and whose father (Richard Jenkins) is dying of cancer. When Norman accidentally starts a rumor around school that he has stomach cancer, he finds himself dealing with the consequences. Along the way, he falls in love with a beautiful classmate (Emily VanCamp) who becomes the best thing in his life.
Indie coming-of-age dramedies are a dime a dozen, but early reviews have praised Norman for setting itself apart through strong performances and a genuinely moving story — not to mention its sweet soundtrack, by indie rock star Andrew Bird. Watch the trailer after the jump.
[via First Showing]
The part of the trailer that rings false to me is when Norman's teacher (Adam Goldberg) remarks, "That's an awfully bleak view, for someone who's only seventeen years old." Shouldn't a high school teacher, of all people, understand that no one is more filled with angst than a teenager?
Otherwise, Norman looks pretty solid, if not all that unusual. The movie's appeal seems to be lie more in its heart than its cleverness or originality, so it's tough to tell just by watching the trailer whether the movie ultimately succeeds.
Norman will get a limited release October 21 — check its Facebook page for theater listings.
Synopsis:
Norman Long is a high school loner, a self-aware and darkly funny teen who's just trying to handle his daily existence. In the wake of his mother's sudden death, Norman must now also deal with the reality that his father is starting to lose his battle with stomach cancer.
Norman, depressed and angry, unintentionally gets caught in a lie that he, in fact, has stomach cancer. Soon his complete distortion of the facts spirals out of control. Part coping mechanism, partially as a way to feel closer to his father, and to a certain degree to prepare others for his possible suicide, Norman begins to imitate his father's debilitating physical symptoms, dramatically affecting his life and the world around him.
Emily, a magnetic girl with one of those rare enchanting smiles, gets caught up in Norman's fabrication and struggles with her deep rooted romantic feelings in the face of Norman's "impending" death. Ultimately, Norman must confront a burning set of conflicting emotions as he struggles to define his relationship with his father, his love for Emily, and ultimately who he will be as a young man.