Four Sweet And Simple New Posters For 'The Muppets' Unveiled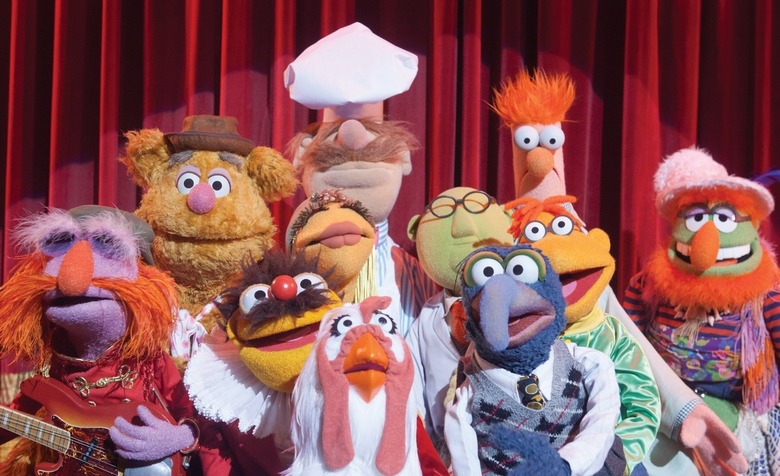 I've loved all the goofy parody trailers, eaten up every plot detail, and followed each bit of celebrity casting, but at the end of the day, the real reason I'm so eager to see The Muppets doesn't have a whole lot to do with famous stars or pop culture gags. My excitement all boils down to the something much more basic: the Muppets themselves are just plain freakin' lovable. So I wholeheartedly approve of the new, scaled-back posters that have just hit the Web. No Academy Award nominees, no David Fincher references, just Kermit, Miss Piggy, Animal, and a couple of their other friends against a plain white backdrop. Check them out after the jump.
[via Hollywood.com]
When you've got characters as iconic and beloved as these, who needs an overcomplicated background or a clever slogan? (From an aesthetic perspective, it probably helps that they're super colorful, too.) These very simple posters get right to the heart of the best reasons to look forward to this movie.
Directed by James Bobin and starring Jason Segel, Amy Adams, and Chris Cooper along with lots and lots of Muppets, The Muppets hits theaters November 23, 2011.
Synopsis:
On vacation in Los Angeles, Walter, the world's biggest Muppet fan, and his friends Gary (Jason Segel) and Mary (Amy Adams) from Smalltown, USA, discover the nefarious plan of oilman Tex Richman (Chris Cooper) to raze the Muppet Theater and drill for the oil recently discovered beneath the Muppets' former stomping grounds. To stage The Greatest Muppet Telethon Ever and raise the $10 million needed to save the theater, Walter, Mary and Gary help Kermit reunite the Muppets, who have all gone their separate ways: Fozzie now performs with a Reno casino tribute band called the Moopets, Miss Piggy is a plus-size fashion editor at Vogue Paris, Animal is in a Santa Barbara clinic for anger management, and Gonzo is a high-powered plumbing magnate. With secret, signature, celebrity cameos, "The Muppets" hits the big screen Nov. 23, 2011.