Watch: The Entire 100 Minute 'Arrested Development: A Bluth Family Reunion'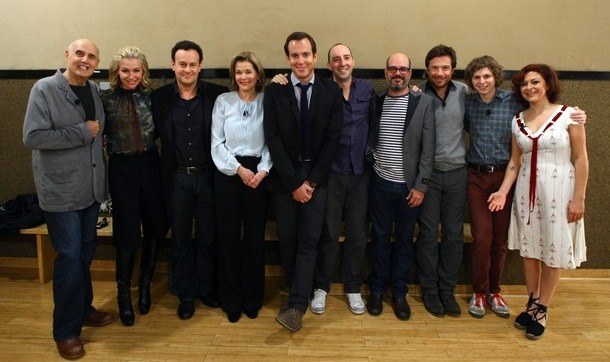 This weekend can be simply described in two words: Arrested Development. News of a possible fourth season of the brilliant comedic sitcom, followed by the long rumored movie, dominated social media on Sunday as everyone expressed their excitement. Read all the details about that here. The news broke at a New Yorker sponsored reunion of the show which included not only show creator Mitchell Hurwitz and executive producer Ron Howard (via speaker phone) but most of the show's primary cast: Will Arnett, Jason Bateman, Michael Cera, David Cross, Portia de Rossi, Tony Hale, Alia Shawkat, Jeffrey Tambor and Jessica Walter.
And as exciting as news of more Arrested Development is, it was only a sliver of a much bigger event. Now, thanks to the magic of the Internet, you can watch the entire thing for free. Check it out after the jump.
To watch the video, click on the image below and then "Like" the New Yorker on Facebook. That'll make it available. Thanks to The Film Stage for the heads up.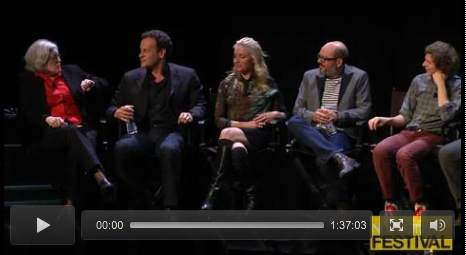 Whether you want to believe it or not, Arrested Development is one of the major catalysts for much of the comedy we enjoy today. It revitalized the career of Jason Bateman, who is now once again a major movie star. It also introduced us to Michael Cera and Will Arnett, both now huge stars in their own right. Episodes were directed by the likes of Greg Mottola, Paul Feig and Jay Chandrasekhar, all of whom went on to bigger and better things. Plus, Arrested Developement's off the wall humor was well ahead of its time and most certainly an influence on some of today's hit shows: Community, The Office, etc.
Despite all of that, the show is still considered a cult hit because the mainstream never embraced it. Maybe now, years removed from its cancellation, it'll finally find the audience it deserves.