'The Catechism Cataclysm' Trailer – A Priest And An Ex-Rocker Get Lost In The Woods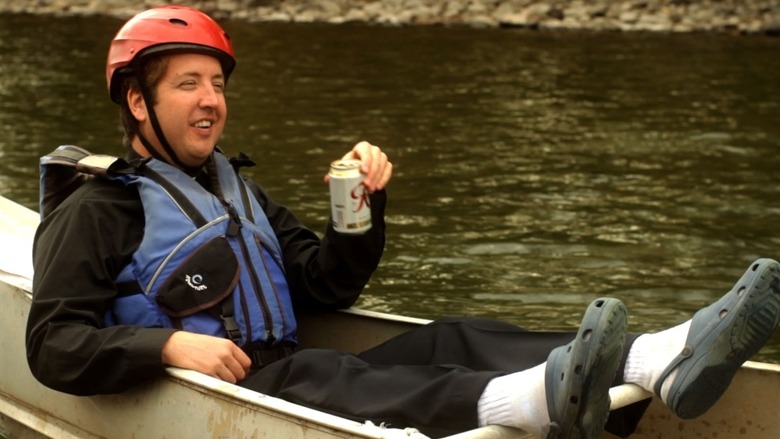 The first trailer has dropped for The Catechism Cataclysm, Todd Rohal's oddball comedy about young priest Father Billy (Steve Little, Eastbound & Down) who reunites with his high school role model, a former rocker named Robbie (Robert Longstreet, Pineapple Express). For reasons I can't quite make out, the two near-strangers decide to go on a male bonding canoe trip. The pair quickly get lost, and things move from awkward to strange to deeply fucked up. Watch the video after the jump.
[via Geek Tyrant]
The film's meandering, stoner-ish sensibility doesn't seem to be for everyone. While some critics called it "delectably strange," others complained that the humor was juvenile and "[not] particularly funny." Pretty much everyone, however, seem agreed Rohal has a very clear vision, and that the movie is totally out there. If anything, it sounds even weirder than the offbeat trailer makes it look, but I thought the trailer had some promising moments.
The Catechism Cataclysm opens October 19.
Synopsis:
Storytelling in all its forms is skewered in Todd Rohal's hilarious THE CATECHISM CATACLYSM. A favorite of Sundance, SXSW and BAMcinemafest 2011, this divinely bizarre and funny tale infuses stories within stories with wild characters until lines between Biblical tales, Mark Twain, and campfire stories are hysterically blurred. From producers Jody Hill, Danny McBride and David Gordon Green, THE CATECHISM CATACLYSM tells the tale of Father Billy (Steve Little, EASTBOUND & DOWN), an eccentric young priest who tracks down his high school idol Robbie, an ex Heavy Metal rocker (Robert Longstreet, PINEAPPLE EXPRESS) who begrudgingly agrees to a canoe trip. As they embark on their journey, it slowly becomes clear that the two old friends might not be as close as Father Billy remembers. When night approaches, and they realize they have lost their way– that's when things get weird.