Dante Harper Adapting Isaac Asimov's 'Foundation' For Roland Emmerich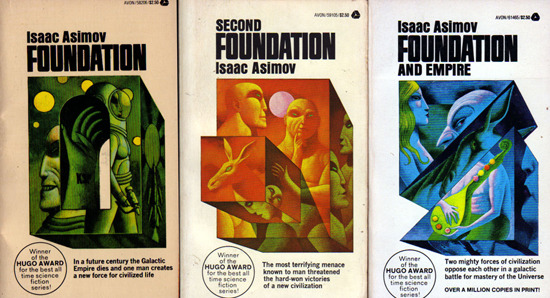 In Hollywood, everyone is always looking for a foot in the door. The belief is once you get that foot in the door, the sky is the limit. Dante Harper certainly believes that. The screenwriter developed Black Hole for David Fincher which led him to rewrite Hansel and Gretel: Witch Hunters, he's penned a Timothy McVeigh biopic called Dreamland and his biggest break, All You Need Is Kill, is now casting under director Doug Liman.
His star keeps rising, too, because Sony just hired Harper to adapt Isaac Asimov's Foundation which Roland Emmerich has been attached to since 2009. Last we heard, Emmerich wanted to film make the sci-fi trilogy "very different from other science-fiction movies" without "the burden of too big a budget." Harper must bring that to the project. Read more after the jump.
Foundation is the first book in an award-winning trilogy by Asimov. It's about "a mathematician named Hari Seldon, a psychohistorian who is able to predict large-scale events using scientific principles. When Seldon foresees the downfall of the Galactic Empire, which will precipitate a dark age lasting 30,000 years, he establishes two human oases ("Foundations") in an effort to preserve human knowledge" according to a previous piece.
Robert Rodat (Saving Private Ryan) was the first writer on the project and though Emmerich said earlier this year that "The studio's happy with the script" either that's not the case or Harper has been brought in to make it cheaper. Deadline's source article on the subject doesn't say either way.
What we do know is that Foundation won't be Emmerich's next film. That'll be another sci-fi film called Singularity. The question then becomes will Emmerich do Foundation after that or get away from sci-fi for a while? Odds are that decision will be made based on the quality of Harper's script.
It's hard to say if Harper is a good fit here as nothing he's written has been released yet, but are you excited Foundation is still being developed?