Marvel's Post-'Avengers' Projects Include 'Guardians Of The Galaxy', 'Inhumans' And More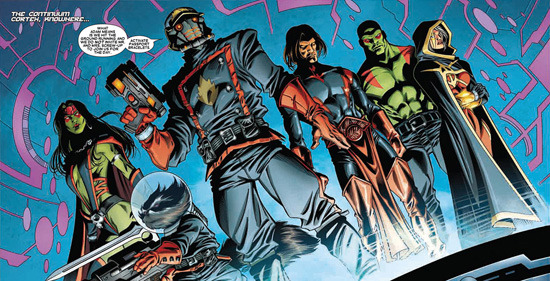 Marvel Studios had quite a big summer this year, with Thor, X-Men: First Class, and Captain America: The First Avenger all opening within three months of each other. And we already know they've got an equally huge 2012 lined up as well, with Ghost Rider: Spirit of Vengeance, The Amazing Spider-Man, and of course, The Avengers all slated for next year. But what comes after that? After the jump, read about the studio's plans for 2013 and beyond, which include the previously announced Iron Man 3 and Thor 2 as well as some more unexpected projects.
Iron Man 3 is still on track to hit in May 2013, with Kiss Kiss Bang Bang writer Shane Black still attached to direct.
Thor 2 is expected to enter production in April. As we've previously reported, Patty Jenkins (Monster) is in talks to direct.
The long-gestating Ant-Man is still "definitely in the works," though it remains "nebulous" at this point. Marvel Studios head Kevin Feige says that Edgar Wright has "developed an excellent draft recently," which we assume is the same one he's been working on with Attack the Block writer/director Joe Cornish for some time.
Now, the next two are where it gets interesting.
Feige corroborates an earlier rumor that a Guardians of the Galaxy movie is in the works. The superhero team, which originally premiered in 1969 and was rebooted in 2008, consists of interstellar warriors who are the last of his or her kind. Founded by Star-Lord, they work to protect the galaxy in a "proactive" manner. "There's an opportunity to do a big space epic, which Thor sort of hints at, in the cosmic side of the [Marvel] universe," says Feige.
The article also confirms reports of a film based on the Inhumans, a race of evolutionary advanced beings who are the result of experiments performed on humans by an alien species called the Kree. The intention was to create super soldiers that the Kree could use to fight the Skrulls, but the test subjects were eventually abandoned to their own galactic kingdom.
Feige says that if either the Guardians of the Galaxy or the Inhumans become a movie, we should expect an ensemble piece a la the X-Men or the Avengers.
Here's the scan of the original article, via Comic Book Movie: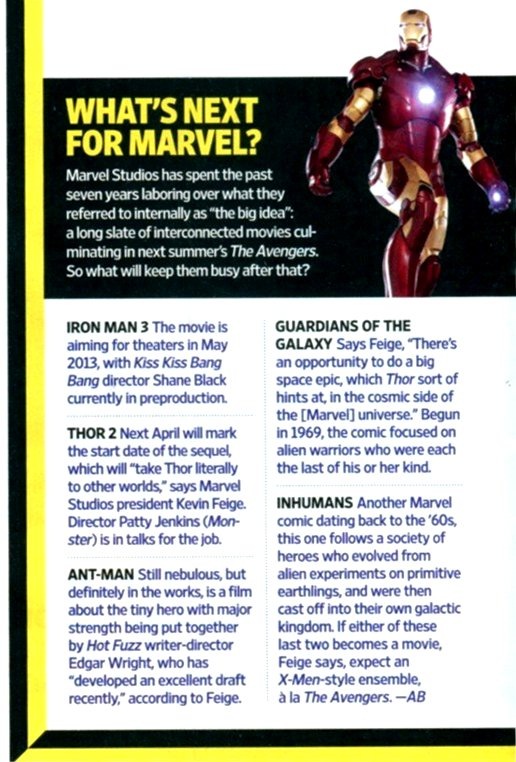 Discuss: Do you approve of Marvel's upcoming slate? Which heroes are you disappointed to see didn't make the cut?