Christopher Nolan, Michael Bay, Alfonso Cuaron, Rupert Wyatt And David Yates In Talks To Enter 'The Twilight Zone'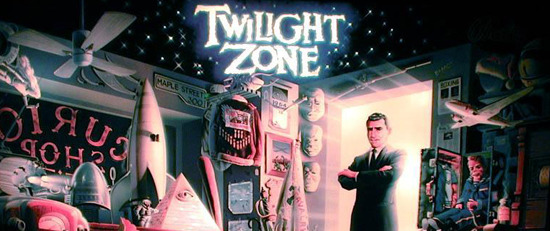 Now, the time has finally arrived that you might actually be excited about a Twilight movie...
Warner Bros is in talks with Christopher Nolan, Michael Bay, Alfonso Cuaron (Children of Men), Rupert Wyatt (Rise of the Planet of the Apes) and David Yates (Harry Potter films) for a new movie adaptation of The Twilight Zone. The 1983 Twilight Zone movie was presented as an anthology, each of the four stories helmed by A-list directors: Steven Spielberg, John Landis, Joe Dante and George Miller. Hollywood no longer likes the idea of an anthology film (note Warner Bros' handling of the highly praised 2007 horror anthology film Trick 'r Treat), so the new movie is one storyline, and will require a single director.
Variety reports that there is "mutual interest is brewing between WB and at least three individuals" listed above, although talks with Yates have "waned". Nolan is said to be the front runner for the project, and has a great relationship with the studio — so its his for the taking if he wants it (also note Leonardo Dicaprio's involvement). Bay has been eager to direct a lower budget passion project, Pain & Gain, which he pushed back to helm Transformers: Dark of the Moon. Even though he is supossedly "high on the script", tt seems unlikely he would push that film back again.
First announced in July 2009, with Leonardo DiCaprio's company Appian Way hiring Rand Ravich (writer/director of The Astronaut's Wife, producer of Confessions of a Dangerous Mind) to pen a script. In October 2010, screenwriter Jason Rothenberg (whose lone credit is the TV movie Body Politic) was hired to write a new draft of the film. Meanwhile, this Summer the Bureau of Moving Pictures picked up the life rights to The Twilight Zone creator Rod Serling, and is seeking to make his biopic, written by Wall Street writer Stanley Weiser and produced by Rod Serling's widow Carol Serling.
Previously from Russ:
The original five-season show The Twilight Zone ('59-'64) has been reborn in multiple incarnations: two additional television series, in 1985 and 2002, multiple book anthologies and comic books, a pinball machine (where the article's image originated) and a theatrically-released movie in 1983.
The original series, created, hosted and often written by Rod Serling, featured a mixture of original screenplays and stories adapted from authors like Richard Matheson, who also wrote many of the show's scripts. Remakes of episodes from the original series have dominated the brand since. The two televised revivals featured both new stories and remakes of classic episodes, and the 1983 feature had four stories, three of which were remakes of original episodes. So it's easy to assumed that Rand Ravich will go back to Rod Serling's well for some of his material. At this point, differentiating the name The Twilight Zone from Serling's influence and those original stories is almost impossible (And foolish — Serling was the show's identity). Indeed, when so many other forms of sci-fi and unusual television storytelling have taken the series' ideas much further, returning to The Twilight Zone seems almost quaint.
That's leaving out the fact that the last time a Twilight Zone movie came to screens, things didn't work out so well. Three actors – Vic Morrow and two illegally-hired children – were killed when a setpiece involving a helicopter went horribly wrong on the set of the segment directed by John Landis. That makes an adaptation of the television series a loaded prospect, as an accident like that isn't something Hollywood ever forgets.
Watch some of the classic episodes from original seasons one, two and three at the CBS website.