Watch The First 5 Minutes Of FX's 'American Horror Story'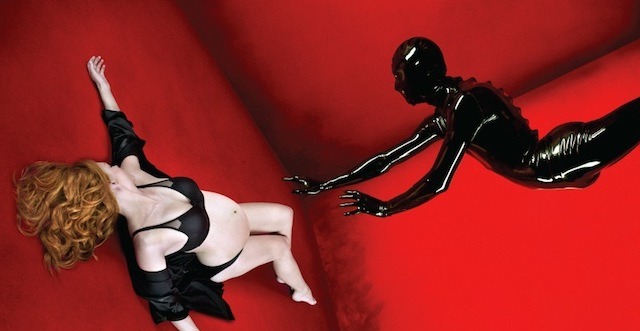 FX's American Horror Story won't debut until next week, but it's already been getting some intriguing buzz. The premise sounds normal enough: Connie Britton, Dylan McDermott, and Taissa Farmiga star as the Harmon family, who relocate from Boston to a haunted house in Los Angeles; Jessica Lange plays their neighbor. However, early reviews have indicated that it's outrageously over-the-top and very, very weird in its execution. Which, actually, shouldn't come as a surprise seeing as it comes from the minds of Glee and Nip/Tuck creators Ryan Murphy and Brad Falchuck.
After the jump, check out the first five minutes of the show. It looks like pretty standard horror movie stuff here, but Murphy, who directed the pilot, does a fine job of setting up an eerie mood.
[via AOL]
The clip, which is set in 1978, doesn't show any of the main cast. However, it does offer a good long look at the house at the center of the story. In the scene, two bratty young boys decide to explore the abandoned property — but as they begin to notice animal corpses and human heads pickled in jars, they realize they're getting more than they bargained for. Oh, if only they'd listened to the warnings of the creepy little girl out front!
American Horror Story doesn't sound like the kind of thing that'll appeal to everyone — Monkey See calls it "a sex-filled gorefest," which is the kind of description that either really appeals to you or turns you off completely — but it sounds worth checking out for its uniquely bizarre sensibilities. Say what you will about the later seasons of Glee and Nip/Tuck, but the beginnings of both those shows prove that when Murphy and Falchuck are on, they can create some of most addictively offbeat television out there.American Horror Story kicks off Wednesday, October 5 at 10 PM. The series also stars Frances Conroy, Denis O'Hare, Evan Peters, and Alexandra Breckenridge.