Superhero Bits: The Avengers, Dark Knight Rises, X-Men, Patton Oswalt, Thor 2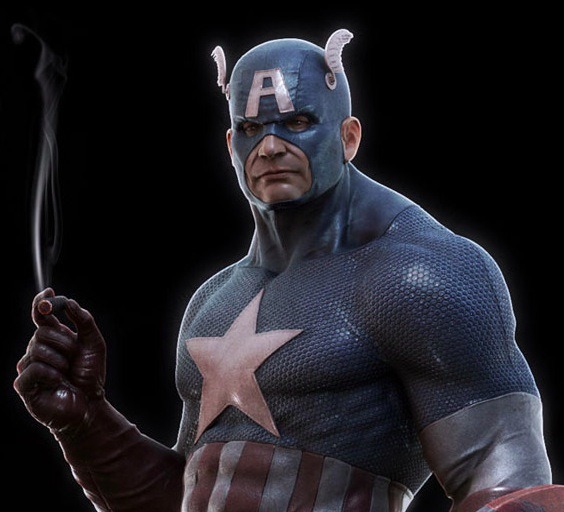 What are eight things we can expect to see in The Dark Knight Rises? Does Chris Hemsworth have thoughts on possible Thor 2 director Patty Jenkins? Which villains could possibly appear in later films in the Man of Steel universe? What do the X-Men look like in stained glass? Who is the new head of Professor X's school in the X-Men universe?  Read about all of this, plus a ton of quotes about The Avengers, in today's Superhero Bits!
Blastr has a funny list of the five things we can learn from the new EW Avengers cover.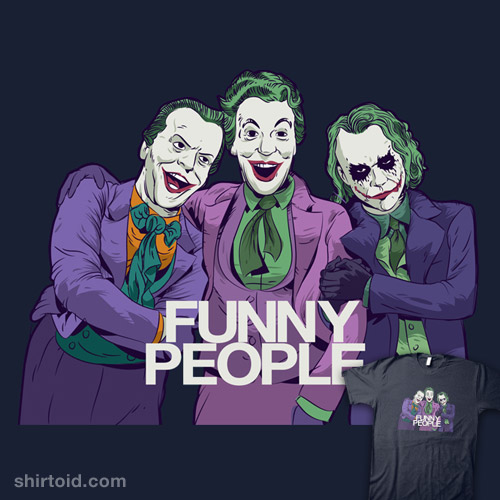 Red Bubble (via Shirtoid) highlights this Judd Apatow/Joker mashup.
The new Green Lantern animated series will be screening at New York Comic-Con according to Superhero Hype.
In the new Entertainment Weekly cover story, they spoke to all of The Avengers about the film. Here's one such quote from Robert Downey Jr. More at the link.
Well, I said, 'I need to be in the opening sequence. I don't know what you're thinking, but Tony needs to drive this thing.' [Joss Whedon] was like, 'Okay, let's try that.' We tried it and it didn't work, because this is a different sort of thing, the story and the idea and the theme is the theme, and everybody is just an arm of the octopus. But what was I like? As usual, just f—ing aggressive and hurtful; whatever. The usual.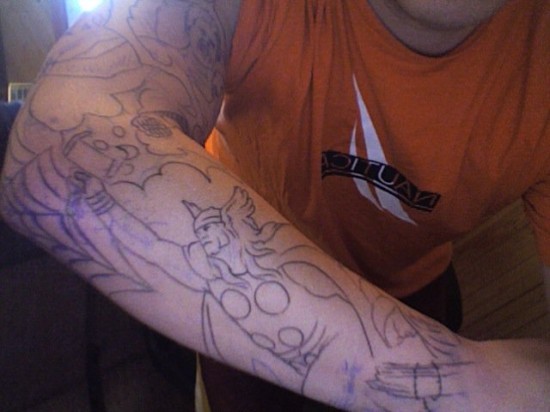 /Film reader Ryan C sent in photos of an in-progress Marvel sleeve tattoo. That's one image above, here's his description of the rest:
I just started work on a full sleeve marvel tattoo, here are a few photos of some s initial outline work. The photos will show Thor, Captain America, Spider-Man webslinging to a spiderweb on my elbow and Bruce Banner transforming into the Hulk going up my arm until Hulk pulls himself through my shoulder. There is also a lightning bolt coming down the entire arm and hitting Thor's hammer. This is just the initial outline work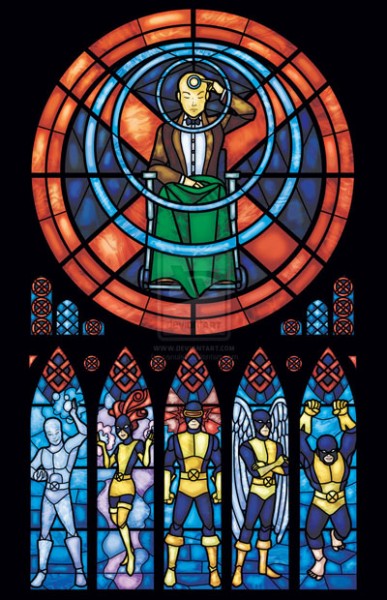 Gamma Squad points us to this X-Men stained glass sticker over at Fay Productions.
Kind of obvious, but a good quote nonetheless, Michael Shannon told Black Book it was the Man of Steel script that attracted him to the film.
One of the main things on that is that Chris Nolan and David Goyer were in there writing the script, and those guys know what they're doing. It can't just be because it's Superman. There's no promises anybody's going to automatically love the movie just because it's Superman. There still has to be quality in all aspects of it. And yeah, I felt very confident making the decision to be involved because of the script, and because of [director Zack Snyder's] work as well.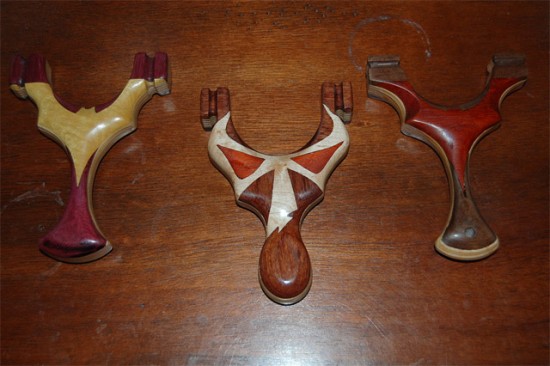 Albotas (via Nerdcore) posted these awesome handmade Batman slingshots. Don't shoot your eye out!Chris Hemsworth commented to the Los Angeles Times about possible Thor 2 director Patty Jenkins:
She has a great take on the story and a solid grasp on that kind of universe. Branagh read every comic book he could get his hands on. She also looked like she had done her homework.
Due to the amount of graphics and images included in Superhero Bits, we have to split this post over THREE pages. Click the link above to continue to the second page of Superhero Bits.

These officially licensed DC iPad 2 cases come to us via GeekAlerts. Many more at the link.
The Geek Files (via CBM) spoke to Ray Stevenson about playing Volstagg in Thor and maybe even Thor 2.
Sticking with Thor, Rifftrax has made this clever Thor video putting their own jokes and dialogue into the movie.
Speaking to Total Film, Tom Hiddleston said which of The Avengers was the toughest to fight:
I think I can dismiss the mere mortals, so Captain America may be a super soldier but he's still a man and he's up against Loki, who's a God. I think Iron Man's blasters hurt a bit... But I think it comes down to his thunderous brother. No one is harder to fight than his brother because there's all that angst within him. Thor still comes out on top.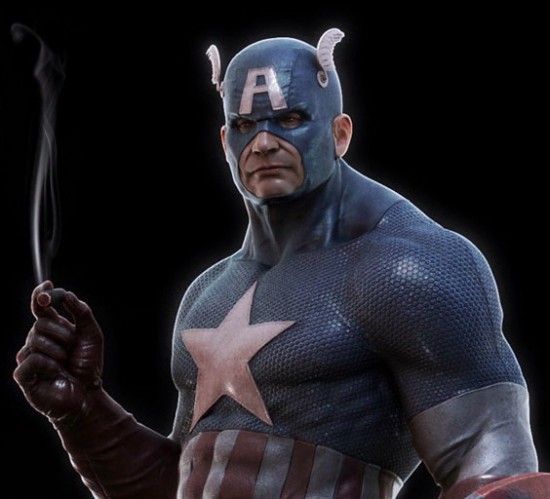 Very cool 3D Captain America rendering by Sven Juhlin via Cool Vibe.
Comedian Patton Oswalt has publicity spoken out against The DC 52 according to Blastr.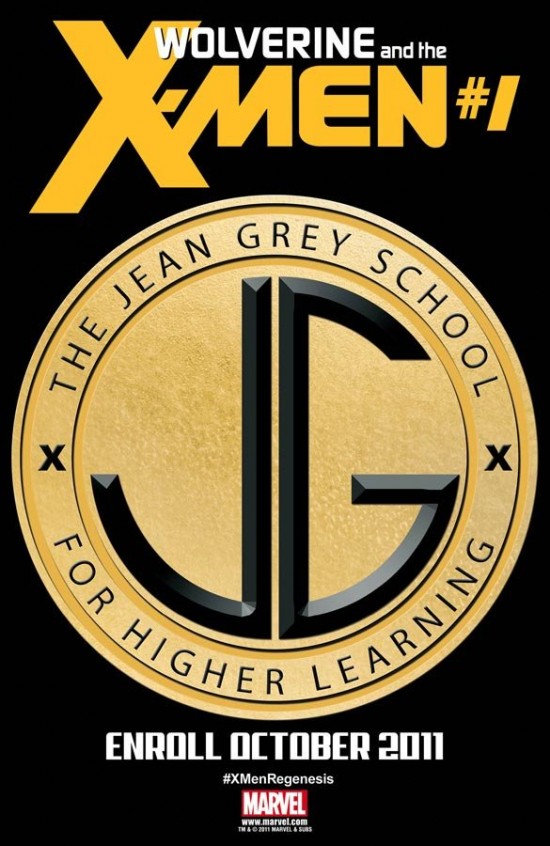 Big happenings in the X-Men universe over at Marvel. The Associated Press (via Comic Book Movie) reports Jean Grey is taking over Xavier's school and Wolverine is the new headmaster. Much more at the links.
Movies.com has handicapped all the Superman villains trying to figure out which will appear in the new movie universe Man of Steel is creating.
Due to the amount of graphics and images included in Superhero Bits, we have to split this post over THREE pages. Click the link above to continue to the third page of Superhero Bits.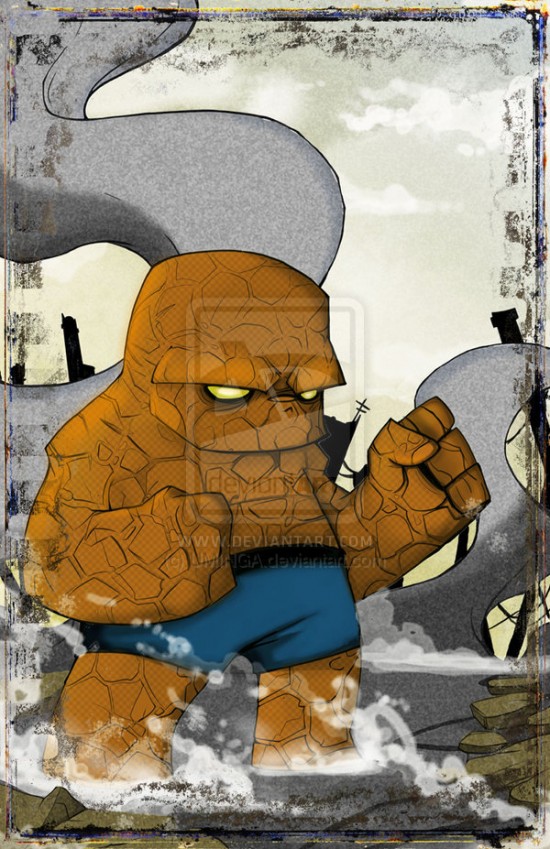 DevianArtist Uminga has done some kick ass work, including this drawing of Thing.io9 has a funny DVD review of the original Captain America movie that may or may not involve mind-altering substances.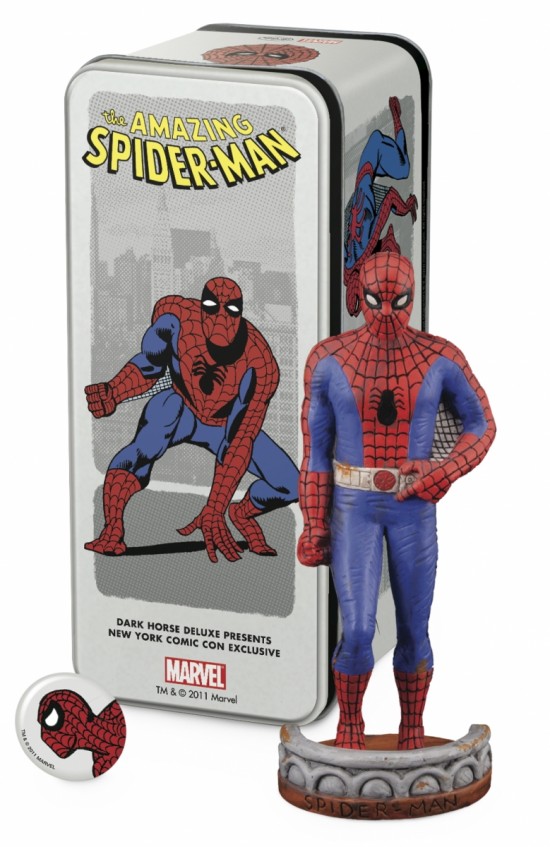 New York Comic-Con is just a few weeks away and Dark Horse has unveiled their exclusive via Action Figure Insider: A Spider-Man Syroco.Jonathan Nolan spoke to IGN Movies about his new show, Person of Interest, but also about the leaked photos from The Dark Knight Rises and how they won't compare:
Yeah, I think the goal with those movies is just to make something so...You know, Chris loves to shoot on these IMAX cameras, these massive cameras. As soon as you release something in the theaters, like a trailer, people go in and they record it with their iPhone or a camera, and they put it online. But when we first released that IMAX prologue for The Dark Knight, the image was so big that no one could record the whole thing with their camera. So you have one YouTube video of the top half of it and another YouTube video of the bottom half.
MINOR SPOILERS FOR THE AVENGERS AND DARK KNIGHT RISES BELOW.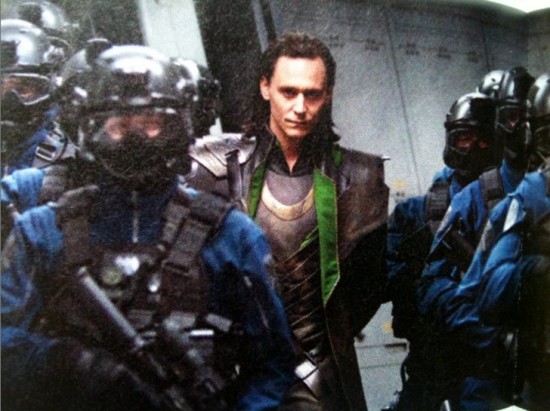 Comic Book Movie found this still of Loki captured by S.H.I.E.L.D agents in The Avengers.Hypable has taken all of The Dark Knight Rises spoilers that are out there and come up with a very solid, very spoiler-filled lost of the Top 8 Things We Can Expect To See in The Dark Knight Rises.