VOTD: Uncut Ghostbusters Commercial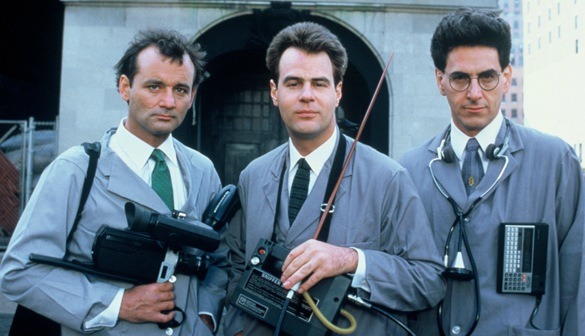 If you've seen Ghostbusters — and I'm betting it's a safe assumption that just about all of you have — you'll probably recall the scene where Dana Barrett (Sigourney Weaver) first learns of the Ghostbusters. She's in her apartment putting away her groceries when she notices a television commercial for the paranormal extermination service, founded by parapsychologists Peter Venkman (Bill Murray), Raymond Stantz (Dan Aykroyd), and Egon Spengler (Harold Ramis). Unfortunately, the scene cuts between Dana's television and her reactions to the ad, so we don't get to see exactly what she sees.
Happily, the Internet is here to help. After the jump, watch the uncut Ghostbusters commercial. It's not a totally perfect match for the commercial playing in Dana's apartment — there's a second or two missing at the very start, and it doesn't have the phone number splashed across the bottom — but it does have Egon acting delightfully extra-awkward right at the very end.
A few commenters on Proton Charging, which posted the video, have pointed out that the clip was included as an extra on the 2009 video game, so the clip isn't exactly brand new. But so what? Whether you've checking it out for the first time or revisiting it after watching it in the game, it's worth 23 seconds of your time to see the team together again. For comparison, here's the original clip from the film:
Over a quarter century after its initial release, Ghostbusters remains phenomenally popular. It's so beloved, in fact, that Universal recently announced that it would be rereleasing the film in theaters for three nights in October. In addition, a third Ghostbusters movie has been in the works for quite some time — although given that the project has yet to come together after years of development, it may be some time yet before we find out just what happened to our favorite supernatural investigators.