Watch 5 Clips And A Featurette From 'Real Steel'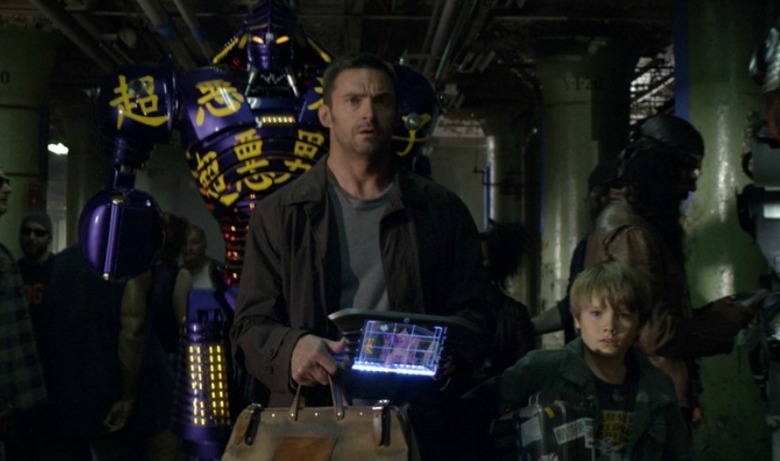 Robot boxing drama Real Steel will be out in about another week, but just in case your love for Hugh Jackman and/or Rock 'Em Sock 'Em Robots is such that you simply can't stand to wait that long, DreamWorks has released five new clips (totaling a little under four minutes) and a featurette from the movie.
Directed by Shawn Levy, Real Steel unfolds in a future in which human boxing has been rendered obsolete by the rise of robot boxing. Charlie (Jackman) is a former fighter and current small-time promoter who gets one last chance to prove himself when he works with his son (Dakota Goyo) to build and train a robot for a championship match. Watch the videos after the jump.
And here's the featurette, in which Jackman and boxing legend Sugar Ray Leonard talk about training together. It gets really cute toward the end, when Jackman talks about how excited his ex-boxer father was to hear that his son would be working with Leonard:
[all clips via Twitch]
So, what do you think? I'll admit I rolled my eyes a bit when I first heard of the movie, but these clips don't look half bad. A bit silly, maybe, but fun, not to mention filled with some impressive talent in the form of Jackman and co-stars Evangeline Lilly and Anthony Mackie.
DreamWorks has shown quite a bit of faith in this project, signing Levy on to direct the sequel weeks in advance of the first film's opening. Levy and screenwriter John Gatins, for their part, have already begun floating ideas for the second installment, which could center around class warfare or the bonds between the central characters.
Real Steel opens October 7, 2011.
Synopsis:
A gritty, white-knucke, action ride set in the near-future where the sport of boxing has gone high-tech, "Real Steel" stars Hugh Jackman as Charlie Kenton, a washed-up fighter who lost his chance at a title when 2000-pound, 8-foot-tall steel robots took over the ring. Now nothing but a small-time promoter, Charlie earns just enough money piecing together low-end bots fro mscrap metal to get from one underground boxing venue to the next. When Charlie hits rock bottom, he reluctantly teams up with his estranged son Max (Dakota Goyo) to build and train a championship contender. As the stakes in the brutal, no-holds-barred arena are raised, Charlie and Max, against all odds, get one last shot at a comeback.