'Paranormal Activity 3' Trailer #2, Tweet To Decide Who Sees The Movie First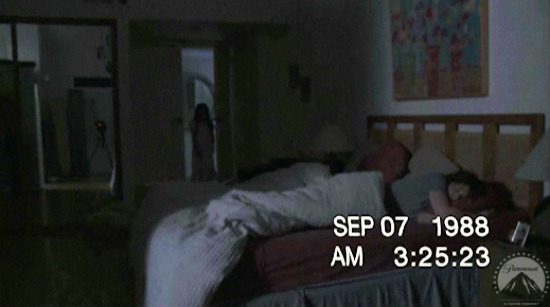 Paramount Pictures has released a new movie trailer for Paranormal Activity 3 from Catfish directors Henry Joost and Ariel Schulman. We've heard unconfirmed rumors that the film might premiere as a secret screening at Fantastic Fest in Austin tonight, and if that is true that shows the studio has confidence in the film (the last movie wasn't screened for most press).Paramount has also announced a "Tweet To See It First" campaign which will allow twitter users to determine which 20 cities will get to see Paranormal three days before the film's global release. The third film in the series is a prequel which takes us back to 1988, where we get to "Discover How The Activity Began." The trailers for past films have been more secretive, where this new spot seems to reveal quite a few scares (so you might want to avoid it if you want to experience the film minus spoilers). Watch the trailer embedded after the jump, please leave your thoughts in the comments below.
The new trailer:
And here is the press release from Paramount:
Tweet to Decide Who in the World Sees "PARANORMAL ACTIVITY 3" First!Paramount Pictures Launches First Ever Global "Tweet To See It First" to Kick Off the Eagerly Awaited 3rd Installment of the Thriller FranchiseMovie Will Premiere in 20 Cities Worldwide on October 18th
In an unprecedented move, Paramount Pictures will debut PARANORMAL ACTIVITY 3 exclusively in cities where the most fans "Tweet To See It First". This first ever of its kind campaign launched today at 8:00 a.m. PDT and is open to fans worldwide. PARANORMAL ACTIVITY 3 will premiere on October 18th in the top 20 cities with the most tweets, 3 days before the film's global release.
"The support of this franchise from the online community is phenomenal. We again look to reward them for that support by offering them the chance to see it first, this time expanding our reach globally," said Rob Moore, Vice Chairman of Paramount Pictures.
To vote, fans can go to www.ParanormalMovie.com and select their city from a global map, which will also serve as the point of entry to create a tweet with a special set of hash tags that link directly to twitter. Once a tweet posts, it counts as a vote. A leader board will show the top 20 global markets in real-time.
The "Tweet To See It First" competition is available to audiences worldwide and ends at 11:59 p.m. PDT on Thursday, October 13th. The top 20 cities will be announced on Friday, October 14th.
PARANORMAL ACTIVITY 3 is produced by Jason Blum, Oren Peli and Steven Schneider and directed by Henry Joost and Ariel Schulman from a screenplay by Christopher Landon. Follow
PARANORMAL ACTIVITY 3 on Twitter at www.Twitter.com/TweetYourScream for audience reactions and important announcements.
About Paramount Pictures Corporation
Paramount Pictures Corporation (PPC), a global producer and distributor of filmed entertainment, is a unit of Viacom (NYSE: VIA, VIA.B), a leading content company with prominent and respected film, television and digital entertainment brands. The company's labels include Paramount Pictures, Paramount Vantage, Paramount Classics, Insurge Pictures, MTV Films and Nickelodeon Movies. PPC operations also include Paramount Digital Entertainment, Paramount Famous Productions, Paramount Home Entertainment, Paramount Pictures International, Paramount Licensing Inc., Paramount Studio Group and Paramount Television & Digital Distribution.