Casting Bits: Michael Williams In 'The Suspect;' Rodrigo Santoro In 'The Last Stand;' David Duchovny In 'Phantom;' James D'Arcy In 'Cloud Atlas'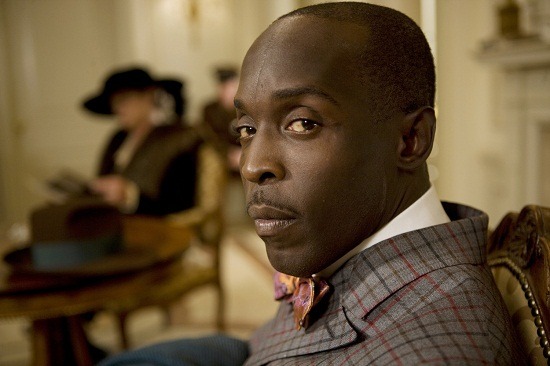 The Wire's Michael K. Williams (who, like John Goodman, just guest-appeared on Community) was in the running for the title role in Quentin Tarantino's Django Unchained, and though he lost the part to Jamie Foxx, he may still end up in the film, in a part written just for him.
Hopefully another new job won't get in the way; Williams will now also be a producer and actor in Life Garland's indie thriller The Suspect, written by Stuart Connelly. Here's how the writer describes the film: "Two African American social scientists pose as bank robbers in an effort to understand the racial dynamics of small-town law enforcement. However, their experiment takes an unplanned, deadly turn." That's a great premise that could be the beginning of a compelling film. We'll definitely follow the development. Shadow and Act reveals that Isaiah Washington is also set for the film.
After the break, David Duchovny rides a sub, and The Last Stand and Cloud Atlas get new actors.
Kim Ji-Woon will sooon direct The Last Stand, a film about a disgraced LAPD cop who has stepped back to small-town sheriff status, and who has to deal with a drug cartel leading who is trying to speed through his domain to cross the Mexican border. Arnold Schwarzenegger plays the sheriff, and Peter Stormare will be one of the guys working for the cartel leader.
Now Rodrigo Santoro, aka Xerxes in 300, is reportedly in talks to play one of the deputies working under Schwarzenegger. Andrew Knauer and Jeffrey Nachmanoff wrote the script, and George Nolfi (The Adjustment Bureau) rewrote. More than anything else, however, the fact that Kim Ji-woon (The Good, the Bad, the Weird and I Saw the Devil) is making his English-language film debut with this is what puts it high on our radar. [Latino Review]
David Duchovny will join Ed Harris, William Fichtner and Natascha McElhone in Phantom, an indie thriller that takes place on a Soviet submarine during the cold war. Duchovny replaces Andy Garcia, and he'll be "the leader of the Soviet special forces team aboard the submarine, whose mission is cloaked in mystery." Todd Robinson (Lonely Hearts) wrote and will direct next month in Long Beach, CA. [Variety]
Finally, we've got one more name to add to the extensive cast list for Cloud Atlas, the film currently in production from co-directors Tom Tykwer and Andy and Lana Wachowski. James D'Arcy is now in the film alongside Tom Hanks, Halle Berry, Hugo Weaving, Ben Whishaw, Susan Sarandon, Jim Broadbent, Hugh Grant and Bae Doona. We don't have his role, but it will likely be more than one role, as most of the major actors are playing multiple parts. The film is an adapatation of David Mitchell's novel that can be very loosely summarized as follows; see here for a lot more detail:
A reluctant voyager crossing the Pacific in 1850; a disinherited composer blagging a precarious livelihood in between-the-wars Belgium; a high-minded journalist in Governor Reagan's California; a vanity publisher fleeing his gangland creditors; a genetically modified "dinery server" on death-row; and Zachry, a young Pacific Islander witnessing the nightfall of science and civilisation — the narrators of Cloud Atlas hear each other's echoes down the corridor of history, and their destinies are changed in ways great and small.
[Variety]