Susan Sarandon In Talks To Co-Star With The Rock In 'Snitch'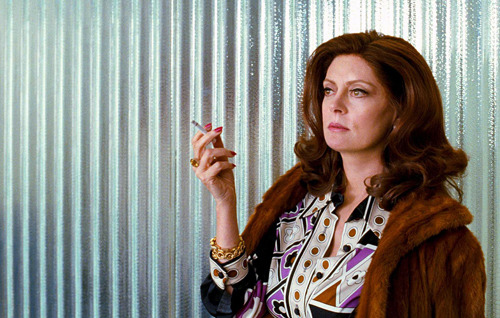 Susan Sarandon is currently shooting (or about to shoot) Cloud Atlas, her second film with Andy and Lana Wachowski, but after that she'll likely appear in a film called Snitch, which already has Dwayne 'The Rock' Johnson set to star.
The film is an action thriller loosely based on a true story about the response a father has when his son is given a very harsh drug-related prison sentence. I say loosely based, because no matter how close Justin Haythe's early draft tried to stay close to reality, the simple fact is that the Rock is a pretty far cry from James Settembrino, the guy upon whom the film is based. More details about the film are below.
Ric Roman Waugh rewrote Haythe's draft, and is directing the film, which is based on a Frontline report. The plot goes like so:
A suburban father who is hit hard when his teenage son is sentenced to 30 years under mandatory minimum drug laws. In order to reduce his son's sentence, the father goes undercover to serve up a senior drug dealer.
Read the Frontline interviews linked before the jump and you'll see that there is probably a lot of license that will be taken in the film. Still, it's an OK setup for an action thriller.
With respect to Susan Sarandon's role, the cool thing about this casting is that it represents one of the too-rare Hollywood moments when a part is reconfigured for a woman. The character Sarandon is negotiating to play, "an ambitious U.S. attorney who believes that a drug bust can help her political career," was originally written as male, but has been reconfigured. (One expects, or hopes, that the only reconfiguring that was really necessary was changing the character's name on each appropriate page.) [THR]