IMDb Releases Trivia Game For iPhone And iPod Touch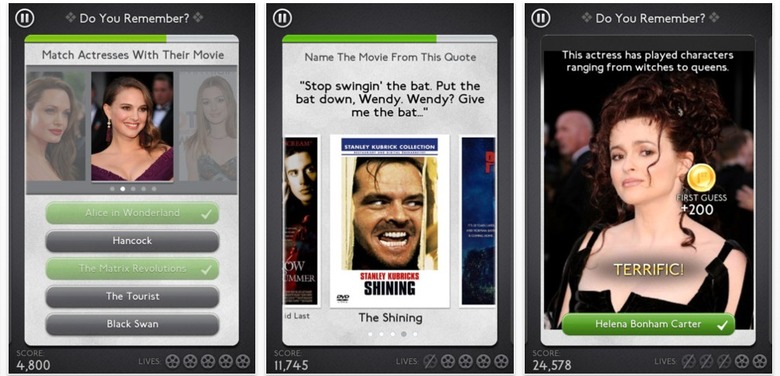 If you're the kind of person who constantly exhausts your friends and family by spouting fun facts any time a movie comes up in conversation — and if you're reading this site, there's a decent chance you are — IMDb's got a new product just for you. The movie reference website has just launched a free game for iPhone and iPod Touch that asks players to answer trivia questions about films, television, and celebrities from the past several decades. More details after the jump.
The app offers five levels of increasing difficulty, and contains additional questions that can be unlocked by earning enough points. Though the free app alone should provide enough entertainment to keep film buffs busy for quite some time, true addicts can purchase more question packs through the iTunes Store for 99 cents each. Players have the option of posting their scores on Facebook and/or comparing stats on the Apple Game Center leaderboard.
"We get over 100 million page views on our trivia pages each year," IMDb CEO Col Needham told The Hollywood Reporter. "Customers spend more than 4 million hours a year on IMDb trivia." Naturally, explains head of mobile products Kintan Brahmbhatt, "We thought 'let's provide the same content in a fun, entertaining way.'" IMDb's earlier mobile app has been downloaded over 26 million times since its launch in 2009, according to Variety.
Though I haven't had a chance to try out the new game myself (I don't own an iPhone), an early review at Gizmodo has praised it as "polished" and "super fun." The IMDb Trivia App is available for free download at the iTunes Store now. Or if you're still undecided, I suggest looking over the game details on IMDb and then checking out the video below of Brahmbhatt demoing the new game (via The Seattle Times):