'The Human Centipede 2 (Full Sequence)' Trailer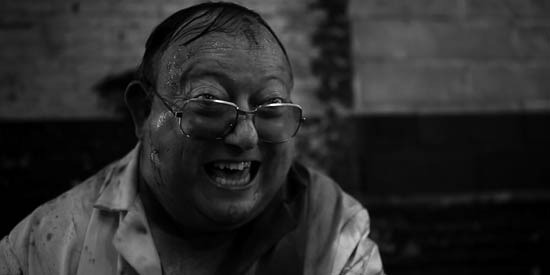 Man, I wish I hadn't grabbed a snack right before I sat down to start working this story. Very poor planning on my part. The full-length theatrical trailer for Tom Six' The Human Centipede 2 (Full Sequence) has dropped, and, well, if you've so much as heard of The Human Centipede (First Sequence), you know what to expect. Watch the trailer after the jump.
[via Yahoo!]
I've never actually seen the first Human Centipede, an omission I don't particularly regret. But the most persistent complaint I've heard about that movie was that despite a truly disgusting premise — people sewn together mouth-to-anus in a chain — it wasn't nearly revolting enough. Writer/director/producer Six has promised that that would not be an issue with the second movie, declaring that Human Centipede 2 would make Human Centipede 1 look "like My Little Pony" in comparison. And indeed, he's seemed to make good on his word so far. The film has been banned by the British Board of Film Classification for being "sexually violent and potentially obscene," which I suppose is a promising sign for viewers who were bummed (ha) that the first one was just too darn clean.
Human Centipede 2's meta plot follows Martin (effectively slimy newcomer Laurence Harvey), a deeply disturbed man who becomes obsessed with the first Human Centipede. Enterprising fellow that he is, he takes it upon himself to create his own human centipede with twelve victims, as opposed to the first film's three. That's probably all you need to know if you're trying to make up your mind about whether you want to watch the film, but if you really want to know all the stomach-turning details, you can read the BBFC's very spoiler-y explanation of their rejection of the film here. Germain posted a video blog from Fantastic Fest which is considerably less spoiler-filled.Human Centipede 2 (Full Sequence) premiered at Fantastic Fest last week, and will hit U.S. theaters October 7, 2011.