FilmDistrict Picks Up MGM's Long-Delayed 'Red Dawn' Remake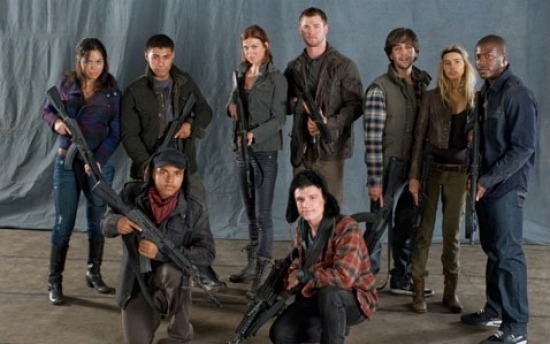 FilmDistrict is turning into the distributor of odd orphans. It grabbed the former Miramax project Don't Be Afraid of the Dark, and is now reportedly about to pick up the Red Dawn remake directed by Bourne second-unit shooter Dan Bradley. MGM financed and shot the film in 2009 before undergoing bankruptcy and reorganization. The movie made news early this year when we became aware that the Chinese enemies were being digitally altered into North Korean adversaries, hopefully to avoid pissing off the rapidly expanding Chinese movie market.
We thought we might see the movie via Sony, but that deal never went through. Now FilmDistrict, riding a Drive-fueled high, is stepping in.
The LA Times reports on the ongoing deal, and because things aren't finalized can't offer any release plan. Don't expect to see Red Dawn before 2012. The marketing plan will likely rely on the fact that Chris 'Thor' Hemsworth stars in the picture, playing the role originated by Patrick Swayze in the 1984 original.
Josh Peck is the other major character, playing Charlie Sheen's part in the story of a small US town facing down foreign invaders. Also in the cast are Adrianne Palicki, Josh Hutcherson, Isabel Lucas, Edwin Hodge, Connor Cruise, and Jeffrey Dean Morgan. In other words, the movie has quite a few faces that are now more famous than they were when the movie shot in '09.