'Melancholia' And 'The Day' Mini-Reviews [Fantastic Fest 2011]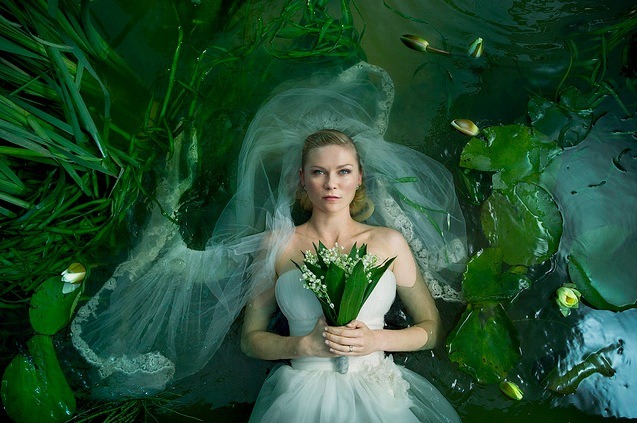 When Lars von Trier's last film, Antichrist, played at Fantastic Fest, it unknowingly birthed the festival's unofficial mantra: "Chaos Reigns." Chaos reigns again in von Trier's latest film, Melancholia, which is about two deeply depressed sisters and their personal trials during the end of the world. It stars Kirsten Dunst and Charlotte Gainsbourg as the sisters as well as supporting roles by Kiefer Sutherland, Stellan Skarsgard, Alexander Skarsgard, John Hurt, Charlotte Rampling and more.
Chaos also reigns in a less impressive, more action-packed, take on the end times, The Day. Directed by Doug Aarniokoski and starring Dominic Monaghan, Shannyn Sossamon, Ashley Bell and Shawn Ashmore, The Day is a snap shot of 24 hours in a post-apocalyptic world. Read more about each film after the jump.
As one would expect with the work of Lars von Trier, Melancholia isn't an easy film to digest. It's told in two parts, one about Justine (Dunst) on her wedding day and another about Claire (Gainsbourg) as she stresses about a planetary event which will see a rouge planet called Melancholia swing by the Earth close enough for us all to see. Fortunately, von Trier depresses us right off the bat by showing the ending first and, in doing so, we automatically have a disconnect from the characters. That's very helpful from an audience perspective because for the rest of the film we see the characters at their worst, just totally hopeless and desolate, even  – in Justine's case – on what should be the best day of her life.
Even with that level of despair, Melancholia is totally watchable because it's one of Von Trier's most straightforward films in terms of narrative. It's never confusing. The story moves forward in time and though we know how it's going to end, the trials and tribulations of Justine and Claire are mysterious, upsetting and fascinating.
Before the movie began, von Trier wished the audience "good luck" in a video interview. With that in my head as the end credits began to roll, I felt like Melancholia was designed as another of his sick jokes: "Watch these people hate everything and then the world ends, muwhahaha." After being very clear throughout the narrative, the ending doesn't hint at any deeper purpose other than that. Lars von Trier obviously loves to put his audiences through hell but at least as he's putting us through the ringer this time, we're engaged. There's nothing particularly confusing and ultimately, even if he won't say it, the journey does make you reflect on your own choices. Melancholia is an intriguing story with the ability to move you but because it starts simple then ends with too much inference, the result is solid, not masterful.
/Film Rating: 7.5 out of 10
With The Day, writer Luke Passmore and director Doug Aarniokoski do their best to make an original post-apocalyptic thriller. Instead of watching the hackneyed story of how the world reaches its end, we pop in the middle and join five survivors on one day in their lives. Brutalized by the weather, characters played by Dominic Monaghan, Shannyn Sossamon, Ashley Bell, Cory Hardrict and Shawn Ashmore find a house to hold up in. Of course, this is a bad idea and they soon find themselves up against the bad guys of the day. Are the zombies? Vampires? Nope. Like I said, The Day tries to be an original post-apocalyptic thriller and while it succeeds to a point, it fails in almost all the others.
Most of the characters are damningly one note, the plausibility and threat of the villains is questionable and by making it a slice of life and ignoring the how, what and why of the apocalypse, the film misses a relateable grounding that would have made it more intense and frightening. It also gets off to a slow start that accomplishes very little and while the excitement does raise considerably as the film moves along, an overuse of CG knocks it down a peg.
The Day isn't a bad movie, it's just a frustrating missed opportunity.
/Film Rating: 4 out of 10