Superhero Bits: Iron Man 3, The Flash, Dark Knight Rises, Captain America, The Avengers, Green Hornet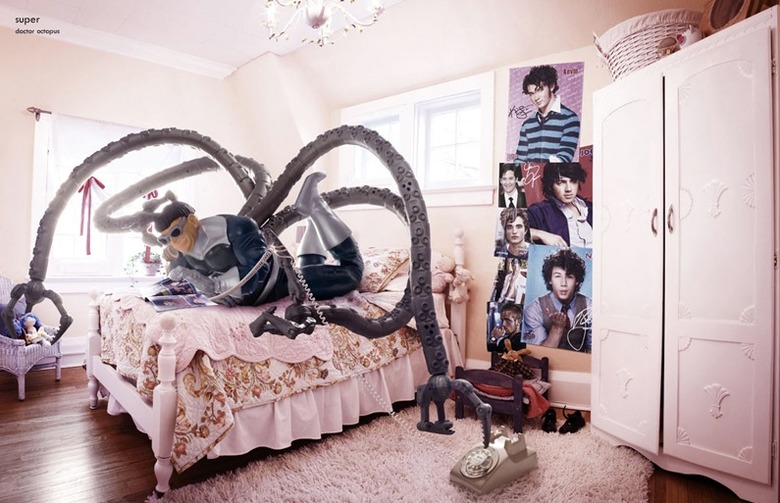 Where and when will Iron Man 3 begin shooting? What does the Captain America: The First Avenger alternate Blu-ray cover look like? Which superheroes have really wimpy weaknesses? Besides the James Cameron one, how many Spider-Man movies never got made? Does Seth Rogen think a Green Hornet sequel is possible? And why does Doc Ock have Jonas Brothers pictures on his wall? Read about all this and more in today's Superhero Bits.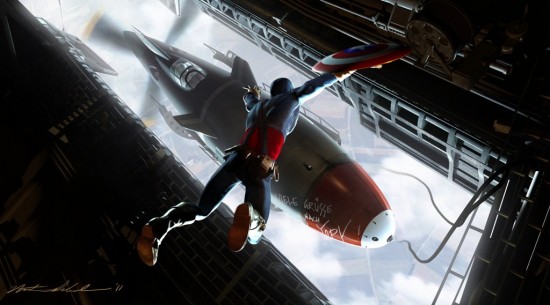 Comic Book Movie found a series of cool concept art that was created for Captain America: The First Avenger by artist Nathan Schroeder. Click on either link to learn more.
[No photo]
Look what was spotted in LA recently! It's the Tumbler from The Dark Knight Rises. Thanks to Curbed.
According to Latino Review, Iron Man 3 will most likely be shooting in Wilmington, North Carolina with shooting commencing in June.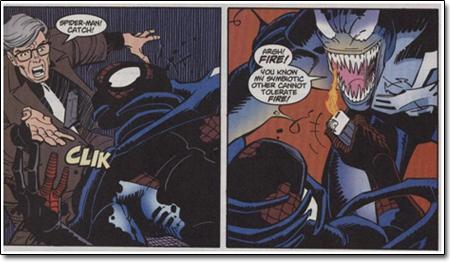 Everyone knows about the famous superhero weaknesses: Superman and Kryptonite, Spider-Man and pretty girls, but what about the worst, most ridiculous ones? Cracked has great list including the photo above of Venom, who can't deal with fire. (From Russ: well, fire's not that wimpy. If it'll scare off xenomorphs, it has to be worthy of respect.)
To that end, we all can list every superhero's power but what power does Nick Fury have? How about The Punisher? Tintin? Jonah Hex? io9 answers it all in a list of the 10 superheroes you didn't know had powers.
Get More: Music News
Is this game really not out yet? MTV Multiplayer has a new, exclusive Batman Arkham City trailer featuring The Joker.
Cobie Smulders was on the How I Met Your Mother Podcast recently (via CBM) and spoke at length about her experiences on The Avengers. Nothing earth-shattering, as usual, but there's a ton of good stuff here, such as:
I had no idea what it was gonna be like at all. I was so happy to see a friendly face in Joss Whedon because I know him socially. – But [the film] was huge; the magnitude of it. I mean, just the amount of people it takes to make a film like this and move out to Albuquerque, New Mexico; People were working on the movie almost seven months before I arrived there.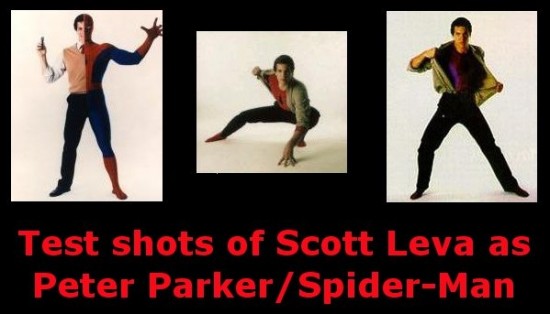 io9 has a very well-researched article about the seedy side of Spider-Man movies, mainly a bunch that never got made including a Cannon version in the 1980s that considered a stuntman named Scott Lava to play the lead.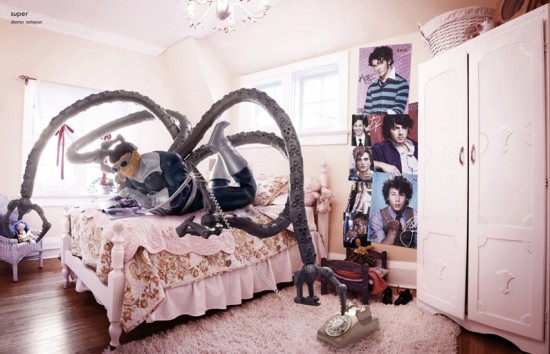 Photographer Ian Pool did a really clever series of photos that show what superheros do on their day off. Filmmaker James Gunn (via Blastr) turned us on to these, including Doc Ock jonesing over the Jonas Brothers.
Shawn Levy, director of Real Steel, spoke to Collider about his work on The Flash movie. Head there for more, but here's a quote:
I oversaw a draft for about three-and-a-half months. And, at that time, I learned two things. One, if you're going to take on a character like that... I was still the family comedy guy. And I just felt like, I gotta get a few more under my belt before I can claim the legitimacy of making a movie like that. And that's what I'm doing, to be very honest. I'm not saying I have a master plan to go back to The Flash. In the end, The Flash went away because Justice League was gonna happen. And then it didn't happen. To my great dismay, because I would have been first in line for that, too.
Due to the amount of graphics and images included in Superhero Bits, we have to split this post over THREE pages. Click the link above to continue to the second page of Superhero Bits.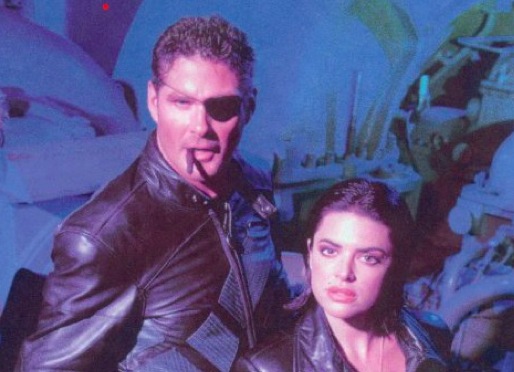 And you thought Batman's nipples were bad. PopCrunch has published a gallery of the 20 worst superheroes on screen and they're all atrocious in the best possible way. One example is David Hasselhoff as Nick Fury.
Gamma Squad's latest cosplay gallery is X-Men themed and very cool. Check it out at the link.
Here's a cool bit of cosplay: Iron Pun, aka, Iron Man and The Punisher. Thanks to The Geek Twins.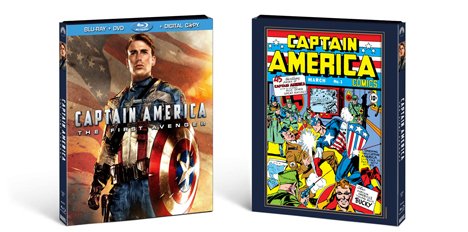 Fans waiting for Captain America: The First Avenger on Blu-ray might want to pick their copy up at Best Buy where IGN reveals they'll have the above exclusive packaging.
Now that it's coming out on DVD it's an afterthought but Chris Evans admitted to the Chicago Sun Times (via CBM) that he was nervous about Captain America: The First Avenger when he saw the trailer:
The weekend of opening, I was really nervous. It needed to be a hit. Who knows why it's a hit? There's no rhyme or reason why something works or not in this business. When I saw the first trailer for the film, I thought, 'It's not going to work' Now, people love it.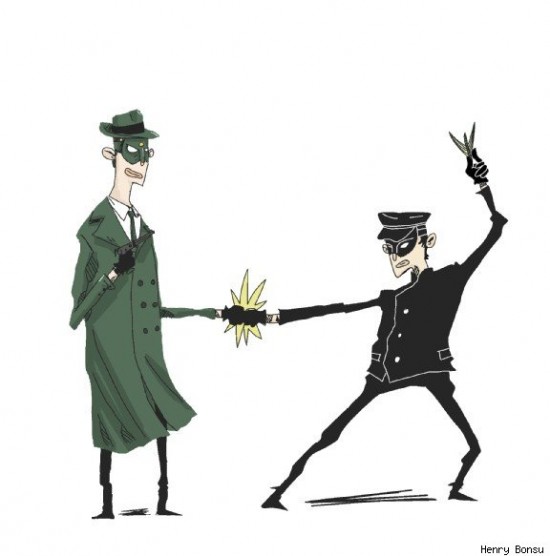 Very much in the style of Scott Campbell, artist Henry Bonsu has done a cool series of Bromance drawings that are sealed with a fist bump. Read more at Hey Oscar Wilde (via Comics Alliance).
While we're on the subject of The Green Hornet, Seth Rogen told Collider he doesn't think a sequel is likely.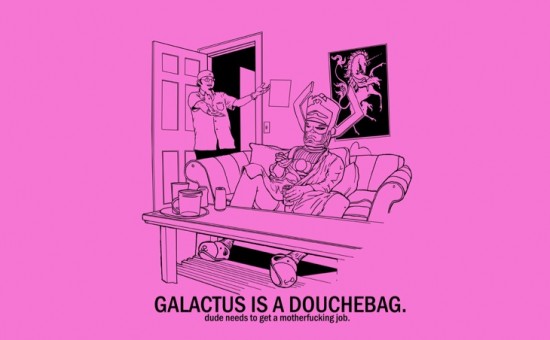 This image speaks for itself. Thanks to My Confined Space. (EDIT – Image drawn by Daniel Danger.)
POSSIBLE SPOILERS FROM THE DARK KNIGHT RISES AND THE AVENGERS ON THE NEXT PAGE
Due to the amount of graphics and images included in Superhero Bits, we have to split this post over THREE pages. Click the link above to continue to the third page of Superhero Bits.
Last week, we showed a video of a vehicle from The Dark Knight Rises called the HEMTT crashing. These photos, uncovered by Comic Book Movie, show what's next.
Comic Book Movie has also posted a few small bits about some Avengers stuff, like where they are researching the cosmic cube and what was blowing up on the streets of Cleveland.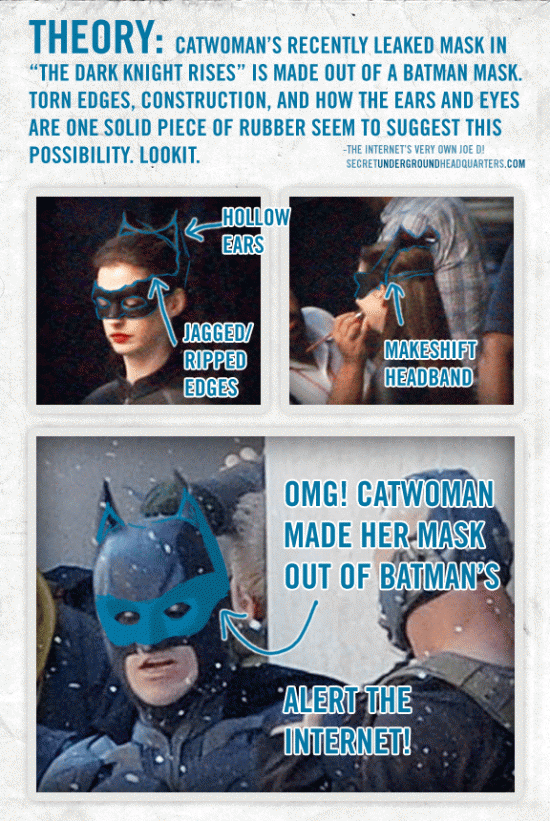 Here's an interesting theory from Secret Underground Headquarters (via Buzzfeed). Analyzing yesterday's Catwoman photos, they've come up with an interesting question. Is Catwoman's make in The Dark Knight Rises made of Batman's mask? We do know Bruce ordered a lot of masks in Batman Begins.