'Transformers' Ride Coming To Universal Studios Orlando?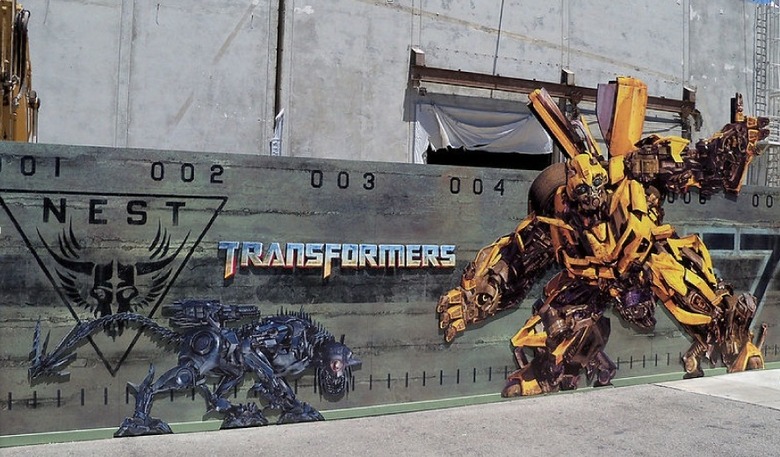 With Transformers: The Ride — 3D about to launch in Hollywood and Singapore, Universal Studios is looking to bring the giant alien robots to at least one other park. Or at least, so says Steven Spielberg. Though Universal has yet to make a formal announcement about a new Transformers-themed attraction for its Orlando resort, the director claimed in a recent interview that a ride was in the works. More details after the jump.
I always like to hear that people are still coming to the attractions we already have in the park. I know everybody's going to Harry Potter right now. But we think Transformers is going to pretty amazing. We've been working on that for about three years now. It should be ready soon. I don't have an announcement, yet, but it should be coming there soon.
The park has yet to publicly reveal any plans for a new ride, though Orlando Fun Tickets notes that one change that has been confirmed is the revamping of Jimmy Neutron's Nick Toon Blast as a Despicable Me ride. The site speculates that the Transformers ride could end up in Universal's Islands of Adventure, alongside such fan favorites as the Incredible Hulk Coaster and the Amazing Adventures of Spider-Man simulator ride.
Transformers: The Ride – 3D is currently under construction in Hollywood and Singapore, with the Singapore opening tentatively scheduled for December 2011 and Hollywood's for spring 2012. The "motion-based" attraction will put guests right in the midst of an epic battle between Autobots and Decepticons, through the use of High Definition 3D, animatronics, and advanced flight-simulator technology. (Click here to check out some concept art.) The Hollywood and Singapore launches come about three years after the initial announcement, which suggests that even if a Transformers attraction is in fact coming to Florida, we won't be seeing it for a few years yet.