'The Human Centipede II: Full Sequence' Video Blog [Fantastic Fest 2011]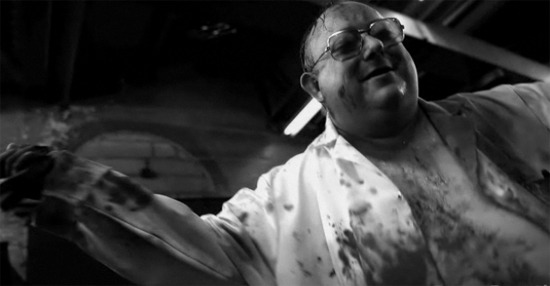 Really, there was no better, more foul movie to officially kick of Fantastic Fest 2011 than The Human Centipede II: Full Sequence. Directed by Tom Six, it's the follow-up to the controversial 2009 film and the screening on Thursday in Austin was the film's world premiere. If you are unfamiliar with The Human Centipede, its premise is right there in the title. Humans are attached to each other, mouth to backside, to create one long being. In the first film, a doctor did this with three people. In Full Sequence, a fan of that film does it with upwards of a dozen people.
The Human Centipede II: Full Sequence is unbelievably graphic, nauseating and disgusting. But is it any good? I spoke with Ryan Turek of Shock Till You Drop (because, who better?) about the film immediately following the screening and you can watch our reaction in a video blog after the jump.
We do our best to avoid too many spoilers and, in the spirit of keeping the video blog short, avoid a lot of the film's minutia. But you'll get a good sense of what to expect from the film when it opens October 7.
Also, I do say it's Fantastic Fest 2001 which, obviously, is incorrect. Enjoy.
Thanks to @jonniechang for shooting the video.