Warner Bros And Producer Roy Lee To Develop Remake Of TIFF Hit 'Sleepless Night'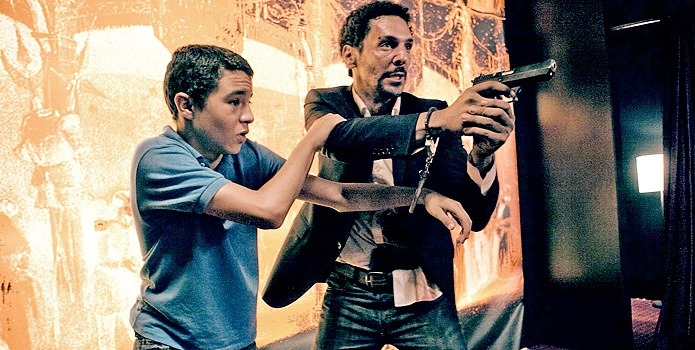 I walked out of an early Toronto International Film Festival press screening 10 days ago ranting and raving about Frédéric Jardin's incredible French contained action thriller Sleepless Night. I posted an enthusiastic review on September 12th calling it "one of the best and tightest written action thrillers I've seen in the past few years" and predicted that some lucky Hollywood studio would be developing a big budget American remake within the week. I was a little off in my prediction timeline, but ten days later The Hollywood Reporter has learned that Warner Bros and Roy Lee will be producing the English-language adaptation.
Lee is probably best known as the producer of some of the hotter Asian-to-American remakes of the last decade, include The Ring series, The Departed, The Grudge series, The Eye, as well as How to Train Your Dragon and Abduction. Lee has a long list of projects in development which includes How To Train Your Dragon 2, The Woman in Black, the Legendary Pictures Godzilla remake, Tim Burton's  Monsterpocalypse, a remake of the awesome South Koran action/thriller The Chaser, a film based on the ACME Warehouse, the  Buffy the Vampire Slayer remake, Spike Lee's Oldboy redo, David Yates adaptation of Stephen King's  The Stand, an American remake of Battle Royale, a big screen adaptation of King's It and Creepshow, and a big screen adaptation of the video game Spy Hunter.
Sleepless Night is being described as Die Hard meets Taken. A drug heist goes wrong in the streets of Paris, as one of the drug carriers escapes after stabbing one of the thieves and getting a glimpse of his face. It turns out, the two masked men are actually two police officers who decided to plan the heist because they really needed money. The film stars Tomer Sisley as Vincent, a lieutenant who now has a bad stab wound he is unable to get treated in fear that he will be connected with the incident, and a huge bag of coke. The bag of coke belongs to a powerful mob boss/nightclub owner named Jose (Serge Riaboukine), who kidnaps Vincent's son in hopes to reclaim his "stolen property." Vincent has until the end of the night to return the stash and save his son. The rest of the story takes place almost entirely in Jose's huge extravagant nightclub/restaurant complex over the course of the night, for the most part, in real time. Vincent somehow loses possession of the bag and must figure a way to save his son before its too late. Detectives have followed him to the club and are on his tail, and his wound is becoming a major issue (a ticking time bomb, if you will).
In the best case scenario, if they decide to keep the remake real and gritty, it could be the next generation's Die Hard. Worst case scenario, if they dumb it down and try to make it more Hollywood and accessible, it will be one of those b-level Jason Statham films you eventually watch at 1am on Netflix. It really all depends on who they get to direct. I think it would be a mistake to go with a glossy established director like Len Wiseman or Brett Ratner. For this type of film, you need a first time filmmaker with something to prove.
Watch the trailer below: