Richard Jenkins Added To Tom Cruise Thriller 'One Shot'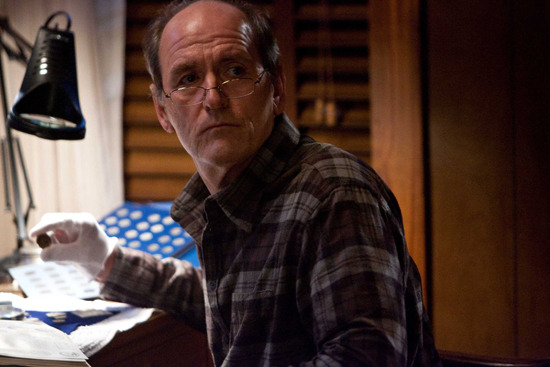 I have to keep writing the phrase "Tom Cruise thriller One Shot" just to get used to the idea of the actor playing Lee Child's giant ex-military cop hero Jack Reacher. I vowed months ago to not bitch about that cast choice any longer, and I'll stick to that. Getting used to it, however, takes a little work.
It will help to have great actors populating the film around Cruise, and the latest addition to the film, which revolves around a set of sniper murders in a midwest town, is the reliable Richard Jenkins.
The quick recap of the source novel is that five people are shot in the street in the downtown area of a mid-sized burg, and a suspect is arrested in what seems to be an open and shut case. But things are a bit more complicated than that, and the suspect asks Jack Reacher to help reveal the truth.
Variety says that Jenkins is playing the DA responsible for prosecuting the sniper. Those who've read the book know there's a bit more to the character than that, but I won't spill all the details. (It's not a huge spoiler or anything, and will probably be revealed in the trailer, but still.)Christopher McQuarrie scripted and will direct. Rosamund Pike co-stars as a young defense lawyer who helps Reacher, and David Oyelowo will be a veteran cop investigating the killings.
Six shots. Five dead. One heartland city thrown into a state of terror. But within hours the cops have it solved: a slam-dunk case. Except for one thing. The accused man says: You got the wrong guy. Then he says: Get Reacher for me.
And sure enough, ex—military investigator Jack Reacher is coming. He knows this shooter–a trained military sniper who never should have missed a shot. Reacher is certain something is not right–and soon the slam-dunk case explodes.
Now Reacher is teamed with a beautiful young defense lawyer, moving closer to the unseen enemy who is pulling the strings. Reacher knows that no two opponents are created equal. This one has come to the heartland from his own kind of hell. And Reacher knows that the only way to take him down is to match his ruthlessness and cunning–and then beat him shot for shot.