Cool Stuff: Mondo's Fantastic Fest 2011 Posters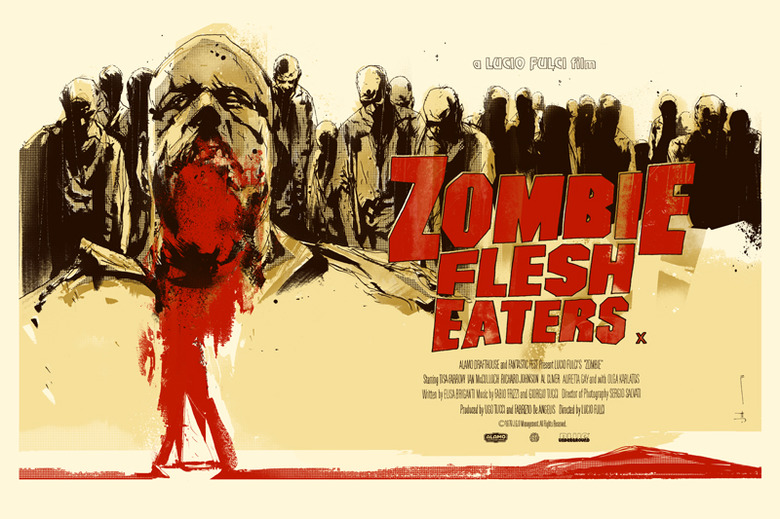 I type this from the tables right outside the Alamo Drafthouse South Lamar in Austin Texas as Fantastic Fest 2011 is getting ready to kick off. Of course, it wouldn't be a true to form Alamo event if Mondo didn't get involved and in addition to an Olly Moss American Werewolf in London poster that will be revealed on Saturday, Mondo has a bunch of limited edition posters that will be available for the first time at the fest. They're for Zombie, The Innkeepers and The House by the Cemetery. Plus Mondo is releasing their first record, the score to Maniac by Jay Chattaway. Check out all the images after the jump.
Mouse over each poster to see what it is. Here's the info on each.
Zombie by Jock (24" x 36"), edition of 280, $45.Zombie Flesh Eaters UK Variant by Jock (24" x 36"), edition of 110, $75.The Innkeepers by Ghostco (18" x 24"), edition of 200, $35.The House by the Cemetery by Jeff Proctor (24" x 36"), edition of 285, $40.Maniac Record – the first release from Mondo records is a reissue of Jay Chattaway's groundbreaking score for Maniac. Includes brand new liner notes by Lars Nilsen and artwork by Ken Taylor. Pressed on heavyweight 200 gram vinyl. Edition of 500 (325 copies on black vinyl, 175 copies on clear/red mix, all randomly inserted). $20 each.
They'll also be releasing a limited number of the previously revealed Fantastic Fest posters by Mike Saputo ($30, edition of 135) and Frankenstein by Drew Struzan ($285, edition of 325).
For festival goers, follow @MondoNews on Twitter for the reveal of when each of these items will go on sale. For everyone one else, keep checking back all week for the latest on Fantastic Fest.