Elton John Prepping Autobiographical Fantasy 'Rocketman'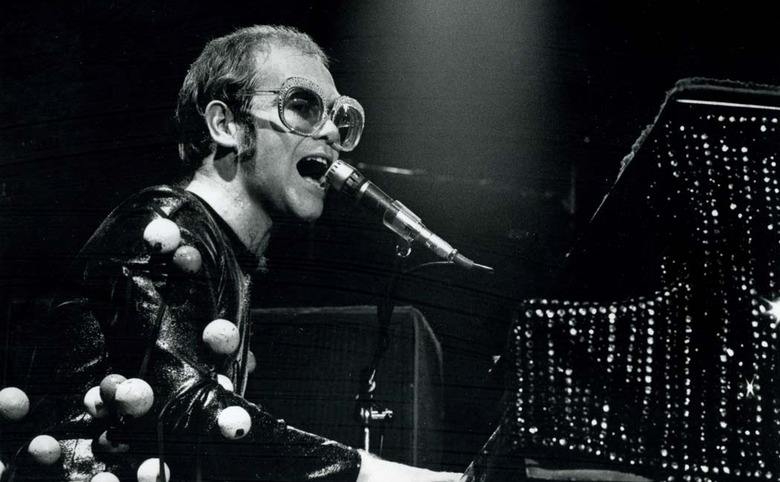 Elton John and David Furnish are prepping a big new project for their company Rocket Pictures, taking inspiration from probably their most obvious source: Elton John himself. Titled Rocketman, the new film will be a "biographical musical fantasy" telling the story of John's colorful life and iconic career, from his start as a child piano prodigy in the '50s to the earlier days of rock stardom. John and Furnish are set to produce the project with Steve Hamilton Shaw, also from Rocket Pictures. Billy Elliot scribe Lee Hall has been tapped to write the script. More details after the jump.
Rock 'n' roll biopics are a dime a dozen, but Shaw promises that Rocketman will be a "radically different" type of movie. He says,
It will be as unique as Elton's life, told in a non-linear and hyper-visual manner that will transport people through the many intense experiences, some wonderful, some not, that helped define Elton as an artist, musician and man.
Deadline reports that among other things, the film will (naturally) involve "choreographed sequences" set to John's greatest hits. In that light, Hall seems like an excellent choice to write the screenplay. He and John have previously worked together on the Tony Award-winning stage musical Billy Elliot, for which Hall wrote the book and lyrics and John composed the music.
The producers are currently seeking a director and stars for the project. Deadline suggests Guy Pearce and Ewan McGregor as ideal candidates to play John — what do you think?
(From Russ: suggesting Ewan McGregor reinforces the comparisons to Velvet Goldmine that sprung up as soon as I read Shaw's description of the movie they're planning.)