Superhero Bits: Hellboy 3, Kick Ass 3, Dark Knight Rises, Man Of Steel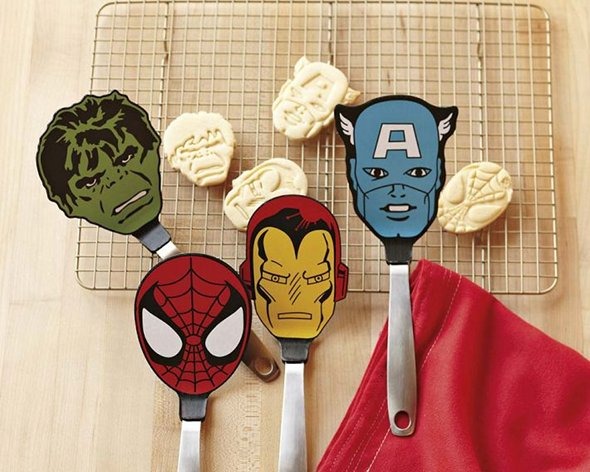 Note: Superhero Bits will likely be sporadic over the next week because I'm at Fantastic Fest. Please, don't weep for me.
Want to watch the first clip from Batman: Year One? Why is George R.R. Martin such a big Marvel fan? What does Ron Perlman have to say about the possibility of Hellboy 3? How about Mark Millar about Kick Ass 2 and Kick Ass 3? Does Tom Hardy have any plans post The Dark Knight Rises? Would you like to study the architecture of various superhero lairs? Read about all of this and more in today's Superhero Bits.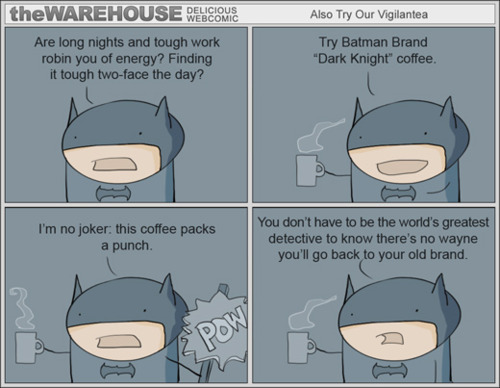 Batman spends so many nights up late, The Warehouse (via the Daily What) is sure he'd drink some coffee.Batman Year One is coming to Blu-ray and io9 has your first look from the movie. It's not embeddable so head over there to check it out.
According to Tom Hardy, his Dark Knight Rises co-star and nemesis Christian Bale is not a guy you want to mess with. Thanks to The Digital Spy (via CBM) for the video.
Collider did a pretty great interview with Michael Shannon about a bunch of his projects and, of course, touched on Man of Steel, especially the fact that Shannon can't believe it's actually happening:
For instance, getting Man of Steel – I never in my wildest dreams imagined that I would get an opportunity like that.  But it has been a really slow progression.  I mean, I have been acting for over 20 years and I started in the smallest little theater that you can possibly imagine and then I very slowly built myself to this point.   So it is never like there is this real sharp change or something that really startled me.  It has just been very gradual.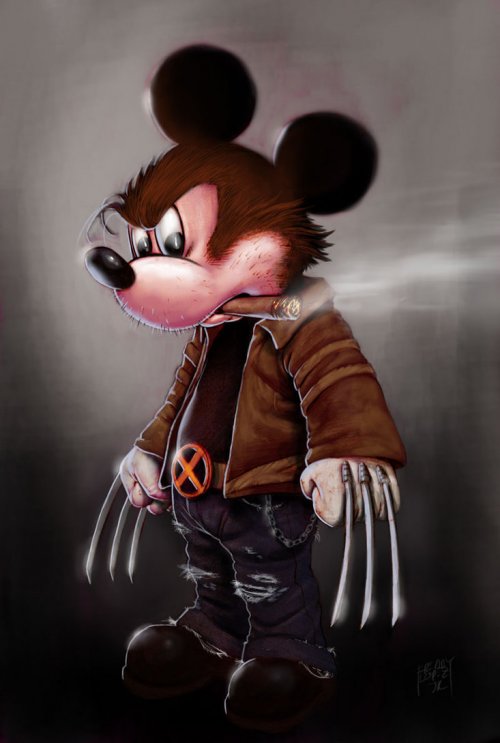 Cool fan art mixing Mickey and Wolverine from The Uniblog (via LikeCool).
Comic Book Resources pulled some quotes from a podcast that Game of Thrones creator George R.R. Martin was on and spoke to him about his love for Marvel comics. Much of it came from the fact that, back in the day, anything was possible, including death. Head there to read his interview.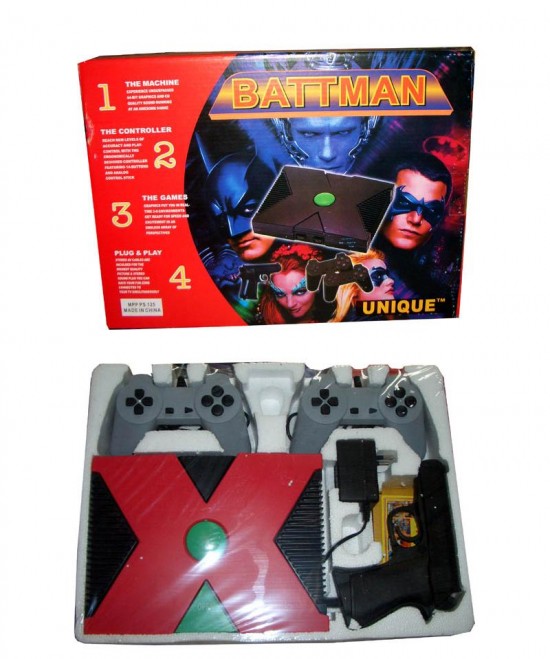 Batman is really not lending his name to the best quality products anymore. Thanks to Reddit for this find.X-Men: First Class is a big hit once again, clearing about $30 million in a week in home video sales according to The Numbers (via CBM)...
...But it's a short lived time at the top as Thor then took the top spot the following week according to The Hollywood Reporter.
You have to think these guys heard from DC's lawyer at some point. Very sexy use of Batgirl, Catwoman and Wonder Woman in a Mexican Commercial thanks to Comics Alliance.
Ron Perlman told MovieWeb that he's still waiting on Hellboy 3 but thinks it's possible:
I wait patiently. Write your Congressman.
Due to the amount of graphics and images included in Superhero Bits, we have to split this post over TWO pages. Click the link above to continue to the second page of Superhero Bits.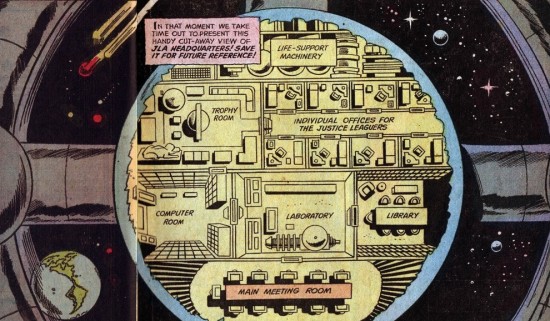 This is almost too smart. io9 has an article called the 10 Architectural Sins of Superhero Bases. Funny, clever stuff. One example? Seen above. No kitchens.
Guillermo Del Toro wrote on his own fan site (via CBM) about the new Hulk show, which might have a presence at New York Comic Con if you read this description. Here's Del Toro:
We've been coming up with an angle that is really strong. I am a fan of Peter David, Pak and Loeb but I like very much what individual writers and artists have done through the decades. I only gravitate to "monster" superheroes- (Blade, Hellboy, Deadman, Hulk-) because I have no interest on the straight ones -even when I've been offered the keys to the kingdom.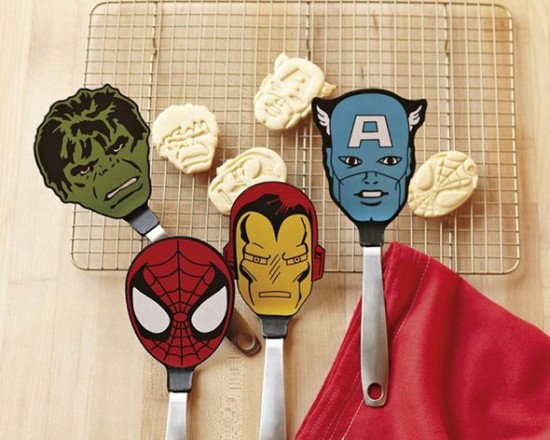 That's Nerdalicious shows us that Williams Sonoma continues their partnership with Marvel offering these new spatulas.
Once Tom Hardy is done with The Dark Knight Rises and Mad Max: Fury Road, he might take a nice long break according to this interview with The Shortlist (via CBM):
It's almost the beginning and the end of a phase for me. It's the beginning of working in America, and we've managed to put together a range of projects, but I think over a period of time I'll slowly pull out. Otherwise you're exposed to the market. Once I've completely finished on a couple of films, such as The Dark Knight Rises and Mad Max, you'll probably see me fade away. I might f*ck off completely. It's like laying a field down with crops — you need to leave the field, man, sometimes, so you can grow sh*t again. I'll fuck off if I have to. Sometimes you need to know when to leave the casino.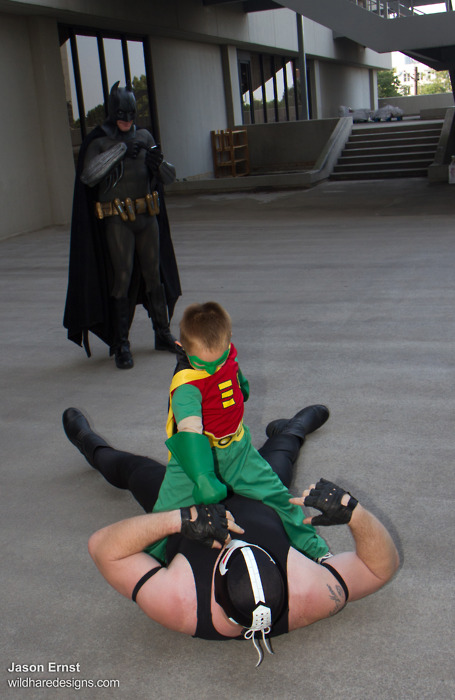 Gamma Squad has a great new gallery of cosplayers up on their site. That's just one example above.
We've heard so much about a hypothetical Wonder Woman movie over the past few weeks, it's nice to read something about the character that's ACTUALLY happening. io9 spoke to the writers of the new DC Wonder Woman series about where it's going to go.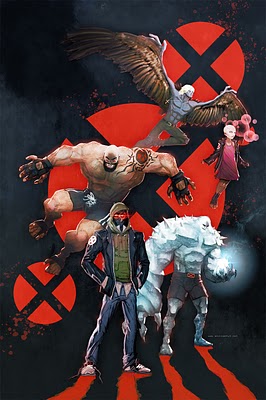 Very cool X-Men design by Anjin Anhut (via SuperPunch).
Mark Millar did a Kick Ass interview, in both senses of the phrase, with the Los Angeles Times and addition to talking about Kick Ass 2 the movie, he spoke about Kick Ass 3, which would end the comic book series:
Yes, "Kick-Ass" is a trilogy of books and there's going to be two volumes of Hit-Girl too. And then that's it. The whole, very complete, story has been in my head since the beginning. "Kick-Ass 2? ends on a bit of a cliffhanger and this all gets resolved in "Kick-Ass 3." I've known the last page of "Kick-Ass 3? since I wrote Page 1 of the first series. Part of me loves the idea of this running and running like Spider-Man, but I also love the idea of it being finite and never being written or drawn by anyone other than me and Johnny. We can collect it into a nice box set, and hopefully it'll just become a little classic that people discover in the future like the "Godfather" movies or "Lord of the Rings." It would be easy to spin it off into lots of different books and hire other people to write them. It would be fast money because it outsells pretty much anything else out there right now. The first hardback, internationally, has sold almost a million copies everywhere from the USA to Israel to Japan and Italy and we've done five printings on the first issue of "Kick-Ass 2? alone, beating almost everything at Marvel and DC. But you have to stick to your guns and let a story have a natural length. You can't get greedy. Just because something sells doesn't mean you should milk it to death. "Kick-Ass 3? will absolutely be the last book and it's a good ending. Plus, I'm lazy. If I have a choice between writing "Kick-Ass 4? or nipping off down at the pub I'm always going to choose the pub.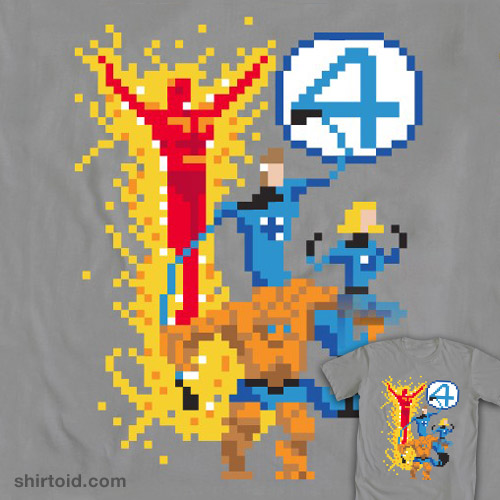 Man, this Fantastic Four shirt is sick. Fantastic 4pdi by Shirtoid.