'Bond 23' Screenwriter John Logan Hints At Blofeld Appearance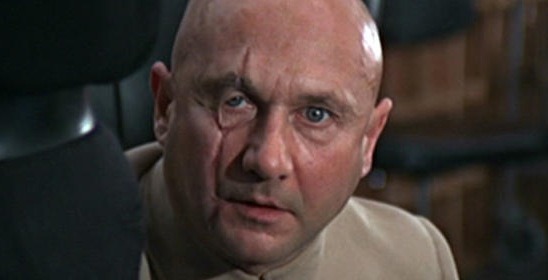 Confirmed details on Sam Mendes' Bond 23 are still scarce, but it seems screenwriter John Logan may have let slip a very useful detail about the villain. At a talk earlier this week, Logan hinted that iconic Bond baddie Ernst Stavro Blofeld just might be making an appearance in the upcoming film. Logan didn't go so far as to actually announce anything, but hey, until we have a better idea of the plot, we're gonna sit here and read into every dubious crumb of information that gets out. Read more after the jump.
Rather interestingly, during the talk last night Logan was reminded by an audience member of a quote that he said some ten years ago that, in his opinion, "Bond should always fight Blofeld". When pressed on this he gave a wry smile and said "Bond should always fight Blofeld".
Rumors that brilliant but evil SPECTRE head Blofeld would be the villain of Bond 23 have been floating around for quite some time now; at one point, Martin Sheen was said to be in talks for the part. And although Sheen has since stated that reports of his involvement were "absolutely not true," it's not all that farfetched to speculate that Blofeld might appear in a some form. Blofeld is arguably the Bond archnemesis, but hasn't figured in a Bond film since the early '80s. The timing seems right to reintroduce Blofeld to the franchise, and it sounds like Logan feels pretty strongly about the character.
If Blofeld does end up being the big bad of Bond 23, it's quite possible that Javier Bardem will be taking on the role, as Bardem confirmed earlier this year that he would be playing the villain. Among the actors who've played the part in the past are Donald Pleasence, Telly Savalas, Charles Gray, and Max von Sydow. Though the character has changed his look multiple times over the years, his most recognizable trademark is his fluffy white cat.
Admittedly, it's a bit of a stretch to infer all of this from one cryptic Q&A response. For now, it's safer to just consider the Blofeld thing as a rumor. But it does the ring of plausibility to it, no?
Directed by Sam Mendes from a script co-written by Logan, Neal Purvis, and Robert Wade, the as-yet-untitled 23rd installment of the Bond franchise will see Daniel Craig once again reprising his role as James Bond. Also set to star are Bardem, Ralph Fiennes, Judi Dench, and Naomie Harris. The film is currently in pre-production with a theatrical release scheduled for November 9, 2012 in the U.S. and October 26, 2012 in the U.K.
Update: As some have pointed out, there's the possibility that Blofeld can't be used by EON Productions, the company behind the Bond films. His last screen appearance was in Never Say Never Again, based on the novel Thunderball, and one of two theatrical Bond features not made by EON Productions. (The other being the '67 Casino Royale.) The screen rights to Thunderball are complicated; Kevin McClory, who co-wrote the Thunderball story with Ian Fleming and Jack Whittingham, ended up with the screen rights to the story. He produced Never Say Never Again. As Blofeld first appeared in the novel Thunderball, McClory has owned the rights to the character for some time.
Things may have changed, but if so that would be a big deal in Bond circles. Could EON work around the rights issue by using a Blofeld-like character without naming him? (I'm not sure if McClory owns the screen rights to 'Number One' in the context of Bond films, so EON might be able to use that as a designation for the head of Quantum, which is basically SPECTRE without using the name.)