Lionsgate Snaps Up TIFF's Other Midnight Madness Sensation, 'You're Next'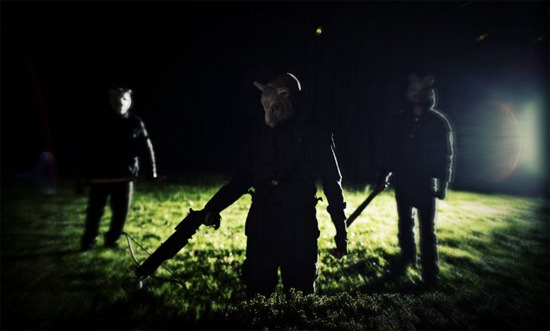 This is why we always give a lot of attention to the Midnight Madness program assembled each year for the Toronto Film Festival: it generates some of the most fun in the fest, and some of the quickest sales. (If not always the quickest releases: don't bring up the All the Boys Love Mandy Lane.)
The Raid was sold before Toronto started, so the biggest Midnight Madness sale is undoubtedly the horror flick You're Next, directed by Adam Wingard and written by Simon Barrett. The two were TIFF vets thanks to their previous film A Horrible Way to Die, and Barrett's script for the 2004 film Dead Birds. Now we'll all get to see You're Next sometime in 2012 thanks to Lionsgate.
Lionsgate has now picked up the film, as reported by Deadline, which also says that the sale of the film was competitive thanks to the fact that it is being eyed as the opening of a franchise. We can expect to see the movie in theaters next fall.
You're Next is a home invasion flick described like this:
A family reunion spirals into a night of terror when mysterious assailants wearing animal masks lay siege against the clan.
Simple stuff, and the masks + home invasion aspect has already drawn comparisons to The Strangers. But I'll trust the overwhelming good word that emerged from TIFF for now. A couple hundred more people will get a chance to see You're Next this weekend at Fantastic Fest, and I'm looking forward to their reports.
There's no trailer available for You're Next at this point, but if you really want to know more you can check out the Midnight Madness Q&A that took place after the screening. Beware spoilers, however.
By the way, Dead Birds, which I mentioned just before the jump, is a solid little genre film — a Civil War crime picture wrapped in a supernatural horror shell. It has a good performance from Michael Shannon, and one from Isiah Washington as well. Worth a look for fans.