Page 2: Immortals, Twilight, Gangster Squad, Wizard Of Oz, Doctor Who, Star Trek, Tom Selleck, Star Wars, Fresh Prince, Harry Potter, Tron: Legacy, Michael Bay, The Shining, IT, Family Guy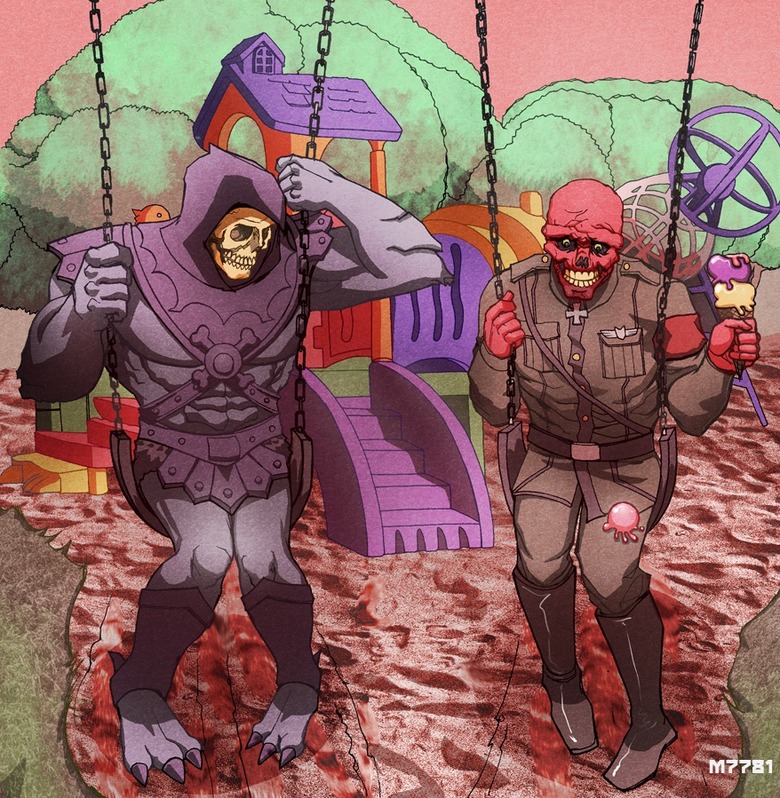 What is Page 2? Page 2 is a compilation of stories and news tidbits, which for whatever reason, didn't make the front page of /Film. After the jump we've included 56 different items, fun images, videos, casting tidbits, articles of interest and more. It's like a mystery grab bag of movie web related goodness. If you have any interesting items that we might've missed that you think should go in /Film's Page 2 – email us!Header Photo: Evil takes a break.
Author Ernie Cline (Fanboys) has published a soundtrack listing for his geek novel Ready Player One, with links to all of the songs on Spotify and Youtube.
Watch a new extended TV Spot for Immortals.Daniel Craig's new film Dream House' will not screen for critics, usually a sign that the studio is afraid the movie will be badly reviewed.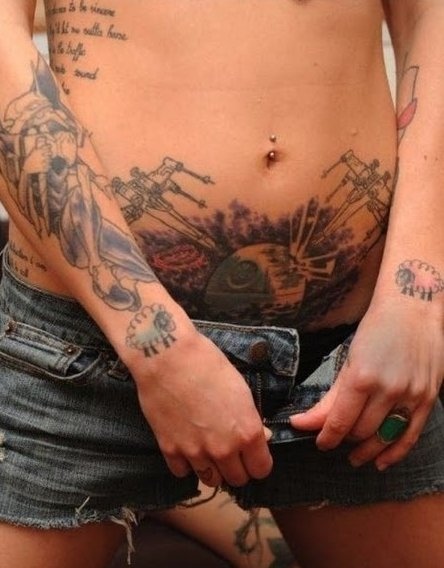 Star Wars Trench Run Tattoo.Guyism lists 10 fictional bars we'd most want to get drunk at.
Last year I killed the Totally Rad Show in our Summer Movie Box Office Wager. This year, they destroyed me.
Legacy Effects' John Rosengrant Talks About the Bella Birth Sequence in The Twilight Saga: Breaking Dawn.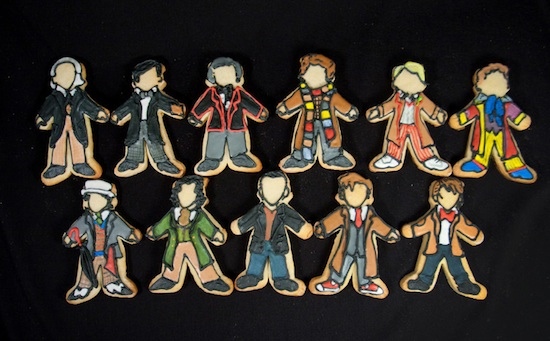 Blastr lists 16 other awesome sci-fi cookies.
The Weinstein Company acquired North American distribution rights to This Must Be the Place, Paolo Sorrentino's drama that stars Sean Penn as a retired rock star who comes out of seclusion.
Due to the amount of graphics and images included in Page 2, we have to split this post over a BUNCH of pages. Click the link above to continue the second page of Page 2.
[No photo]
New set photos from Gangster Squad shows Ryan Gosling, Emma Stone, and a Bulldog.
Fox has ordered Gordon Ramsay's new series Hotel Hell.
Tom Selleck's moustache makes every movie betterTopTenz lists the Top 10 Fanatical Fanbases.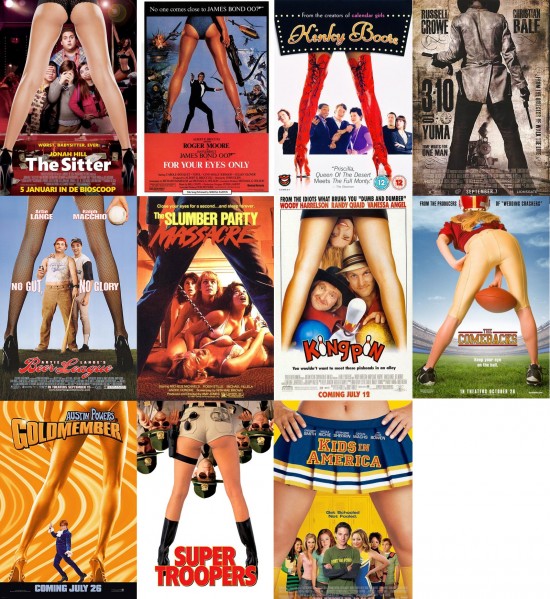 In honor of the new international poster for The Sitter, Pajiba takes a look at the Brief History Of "Between The Legs" Movie Posters.
The Academy of Motion Pictures has announced new rules on Oscar campaigns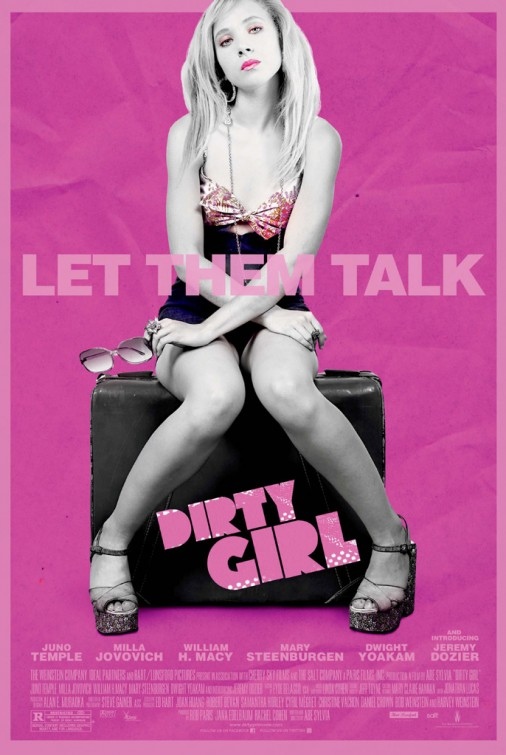 Yahoo! Movies has premiered the latest poster for Dirty Girl.
Kate Erbland follows the lead of Matt Patches and lists 7 Movies My Past Boyfriends Forced Her to Watch That Made Her Who She Is TodayVideo: Star Trek Rides to Monty Python's Camelot.
ATO Pictures has acquired U.S. rights to Last Call at the Oasis, which had its premiere at the Toronto International Film Festival last week.
Due to the amount of graphics and images included in Page 2, we have to split this post over a BUNCH of pages. Click the link above to continue the third page of Page 2.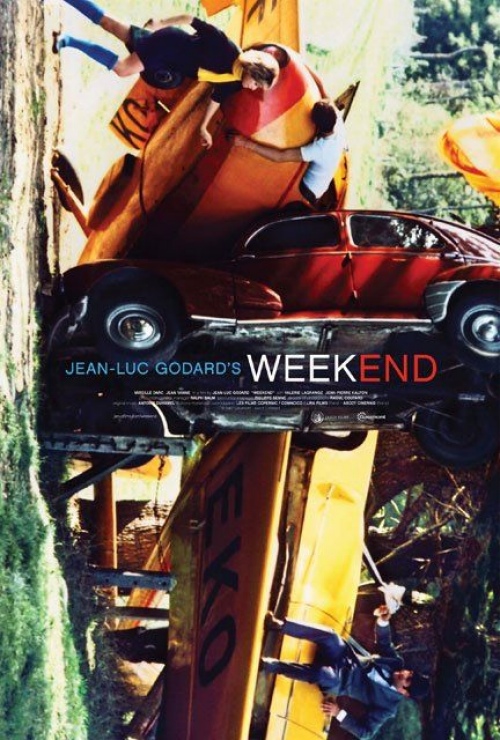 Check out the poster For Janus Films' Re-Release Of Jean-Luc Godard's Weekend.Wired compares 8 Netflix alternatives compared.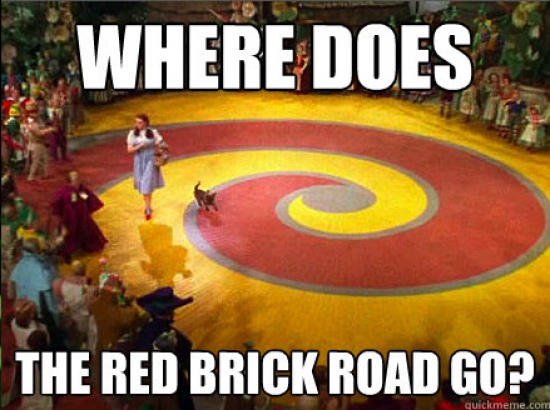 Question of the day: Where does the Red Brick Road in Wizard of Oz go? Here is the answer from Askville:
In the original series of Oz books written by L. Frank Baum the red brick road goes to the Quadling Country in Oz. Red is the Quadlings' state color. In his books, the Land of Oz was divided into four quadrants and each was designated a particular color: Winkie Country = Yellow, Gillikin Country = Purple, Munchkin Country = Blue, and Quadling Country = Red. Glinda the Good was the ruler of the Quadlings in L. Frank Baum's Oz series. As her bubble floats away from Munchkinland in the 1939 film, it appears to be following the red brick road. Therefore, the red brick road most likely leads back to her homeland, Quadling Country.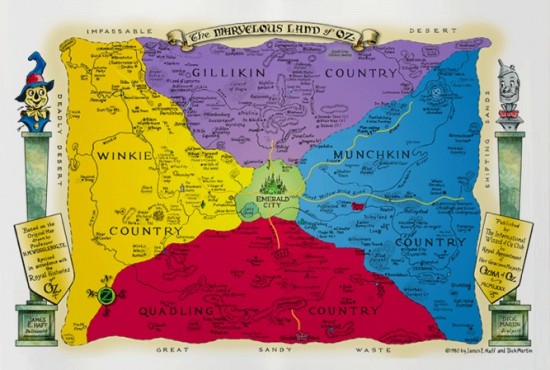 Blastr lists 6 more sci-fi and fantasy movies that need their own theme parks.CinemaBlend lists Brad Pitt's 5 Best Roles Prove He's Always Been More Talented Than You Think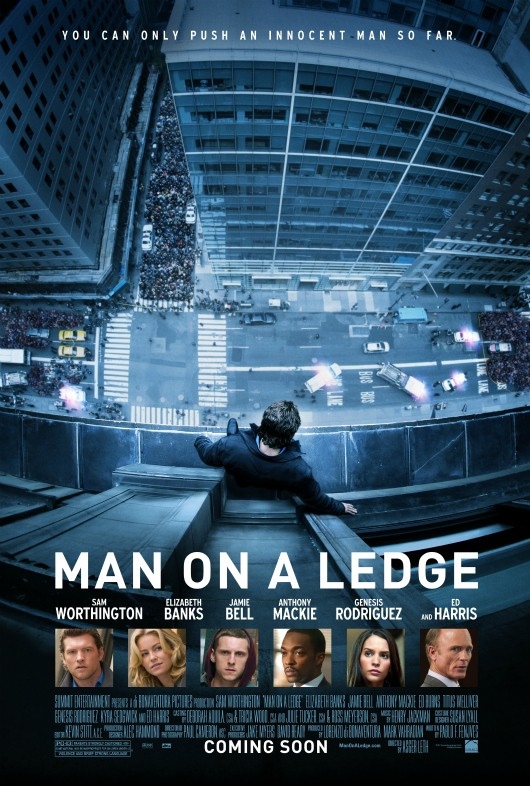 Moviefone has premiered the poster for Man On A Ledge.THR lists Zooey Deschanel's 5 Dorkiest Roles.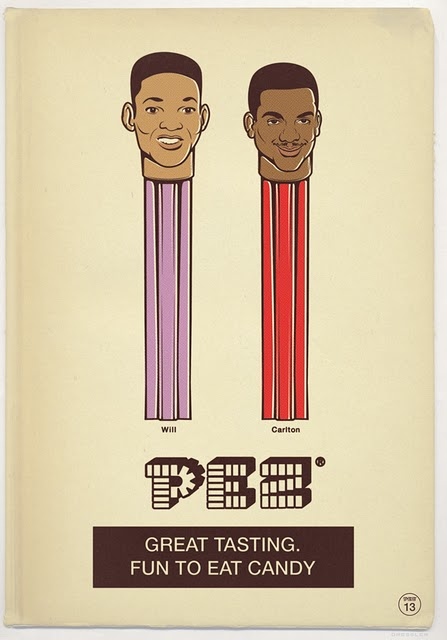 Fresh Prince PEZ.Blastr lists 14 classic sci-fi films that could be blockbusters in rerelease.Watch behind the scenes footage of Ron and Hermione's kiss.Netflix expands the company's pact with Discovery "to include more prior-season and back catalog programming, and renewed the non-exclusive agreement for two more years."
Due to the amount of graphics and images included in Page 2, we have to split this post over a BUNCH of pages. Click the link above to continue the fourth page of Page 2.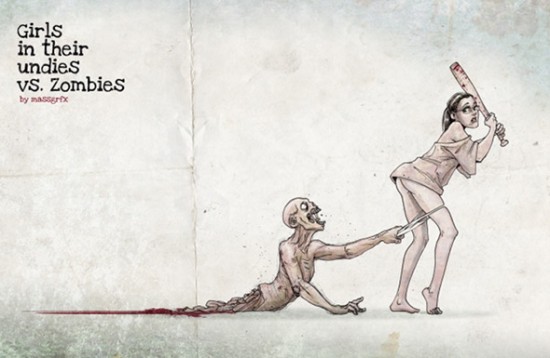 massgrfx has created a series of illustrations titled "Girls in their undies vs. Zombies."
Moneyball will open the 13th Mumbai Film Festival.
Check out The Parker Brothers' custom all-electric model Tron: Legacy Light Cycle replica in action.
Moviefone lists 10 Redheaded Actors Who Shouldn't Be Discriminated by the World's Biggest Sperm Bank.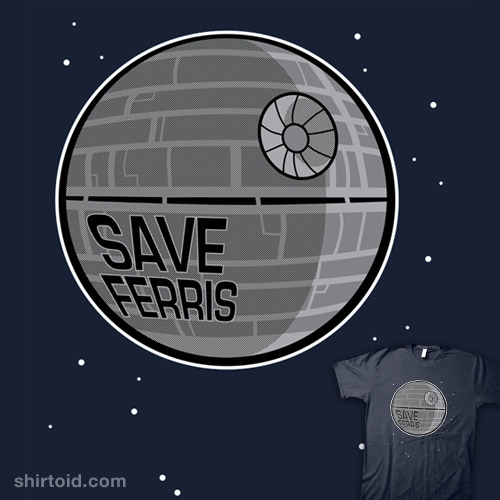 "Save Ferris" Star Was/Ferris Bueller mash-up t-shirt.
CinemaBlend lists Five Movie Characters I Want Protecting My House In A Straw Dogs Situation
Watch Darth Vader's ceremonial first pitch at the Oakland A's Star Wars Night.
WhatCulture lists 10 Greatest British Ensembles In Film History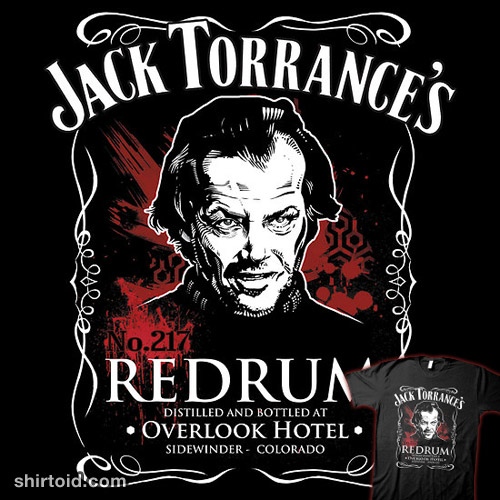 "Jack Torrance's Redrum" t-shirt.
Uprozz lists the 15 Best Singing Performances In Non-Musical Films.
Due to the amount of graphics and images included in Page 2, we have to split this post over a BUNCH of pages. Click the link above to continue the fifth page of Page 2.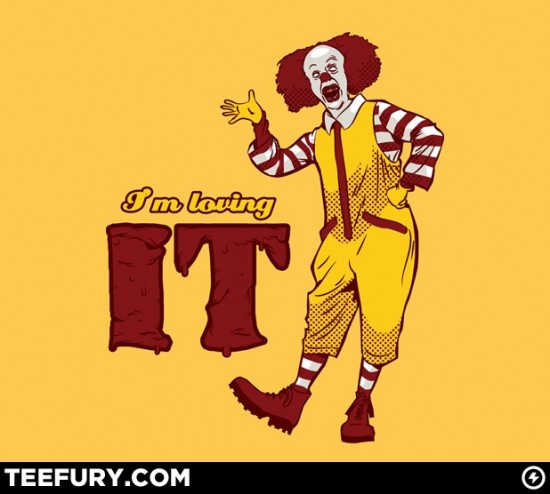 Today's t-shirt of the day on TeeFury is It/McDonalds mash-ip design "I'm Loving It"
UGO lists 10 Fantastic Movie Scenes That Were More Real Than You Knew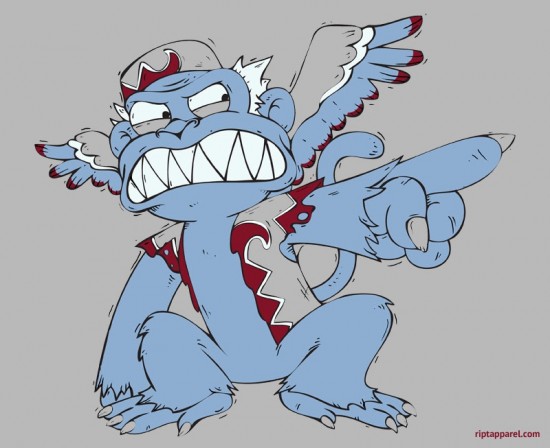 Today's t-shirt of RIPT Apparel is a Wizard of Oz/Family Guy mash-up design "Evil Flying Monkey".
The newest update for DirecTV's official iPad app adds the ability to manage recordings on all of your connected HD DVRs.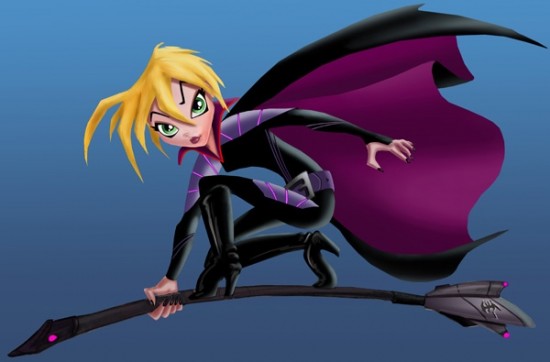 Archie Comics and Moonscoop Entertainment will be teaming up to create a computer animated television series version of Sabrina The Teenage Witch, set for premiere in October 2012.
Documentary filmmaker Ken Burns' new project Prohibition is set to debut on the iPhone and iPad on September 23 on the PBS iOS app.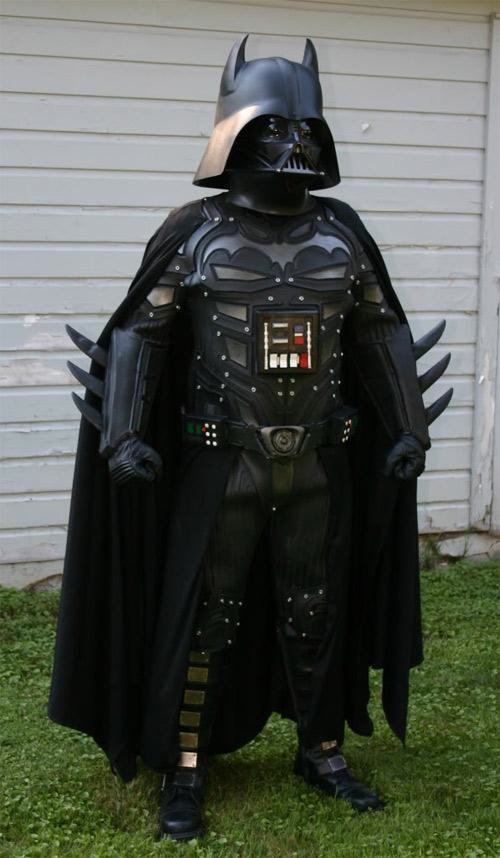 Darth Vader / Batman mash-up cosplay.
Visual effects artists and technicians still don't have a union, but they now have their own bill of rights.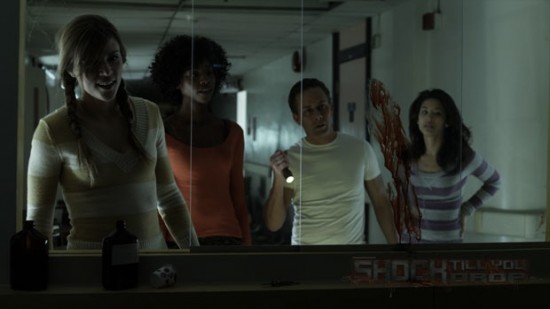 SHOCK has premiered the first photo from Wrong Turn 4.Screened gives a history of backdoor television pilots.
Due to the amount of graphics and images included in Page 2, we have to split this post over a BUNCH of pages. Click the link above to continue the sixth and final page of Page 2.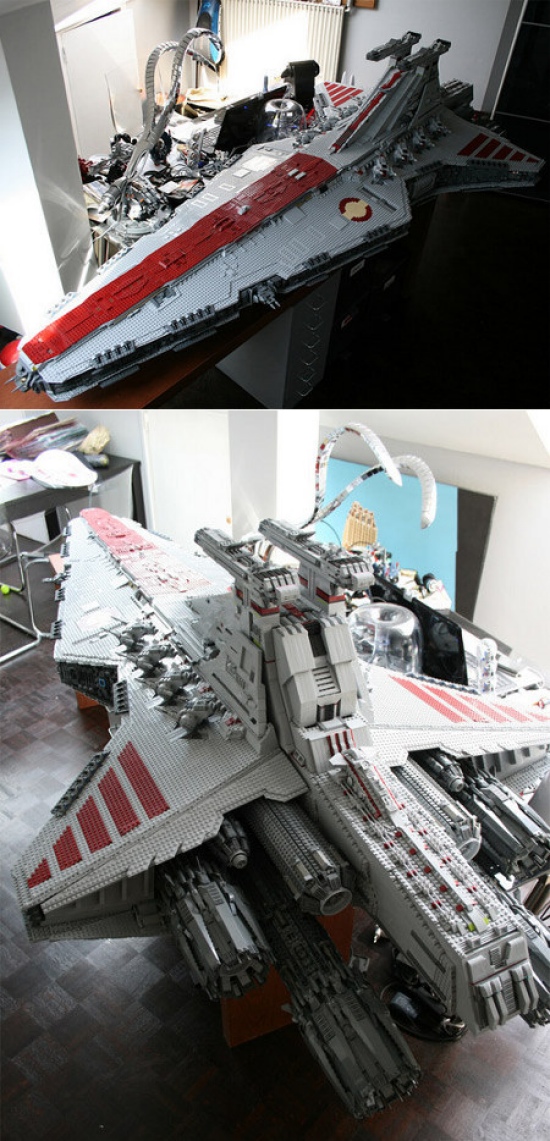 This is an 8-foot, 180-lb Star Wars Venerator Class Star Destroyer made entirely out of 43,000 LEGO pieces.
Risky Business lists Ryan Gosling's 11 Most Memorable RolesWatch the Nielsen TV ratings explained by puppets.You can watch the Boba Fett animated short film from the Star Wars Holiday Special as a hidden easter egg on the Star Wars: The Complete Saga Blu-ray: On the Original Trilogy bonus disk & go to – epiV > Bespin > the collection > concept boba fett armour > click on first look
Watch a tv spot for Brett Ratner's Tower Heist.
Tyrese Explains Michael Bay with Barking Dog Analogy:
"Michael Bay is a good friend," Tyrese started when asked about Bay's directorial style. "We've had our moments and our conflict but Michael Bay is a man's man just like me. He's very driven and he's very focused. A lot of people don't understand him though. Here's an analogy for you — when you walk up the street, and you see a dog that is barking really loud, if you open your arms, that dog is going to give you all love and hugs. Most people are going to just respond to the barking and say, 'That is a really mean dog. He's barking a lot. He's really aggressive. All you have to do though is open yourself up to the dog though and see that the dog is not going to bite. But that is the reputation that Michael Bay has, for the barking. You get what I'm saying?"