Concept Images: Paramount Pictures' $700 Million Studio Lot Expansion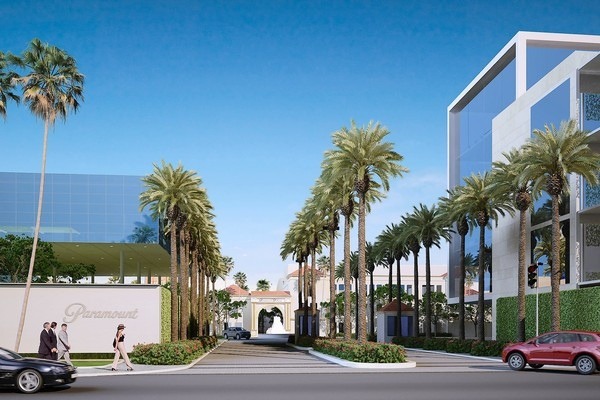 Paramount Pictures has announced a $700 Million Upgrade and Expansion to their historic Melrose avenue studio lot. They hope to build new high tech sound stages and offices, which will involve more than one million square feet of development. They will also be turning surface parking lots into structures and expanding sound stage space another 21,000 square feet.
The expansion project, which must be first be approved by the city of Los Angeles, would be stretched out over the next 25 years. The project is expected to create 7,300 new jobs and generate $1.1 billion in economic output during construction. Paramount has occupied the lot since 1926, and is the last major movie studio still located in Hollywood (the other studio lots are located in other Los Angeles districts like Culver City, Universal City and Burbank). Check out some concept renderings after the jump, followed by the official press release.
Concept photos:
Read the full press release below:
Paramount Pictures Corporation today announced that it is filing applications with the City of Los Angeles for the Hollywood Project, the studio's long-term plan to preserve its rich 100-year history in Hollywood and invest in its storied 62-acre property. The 25-year plan, which outlines proposed enhancements to the studio's properties, will provide Paramount with the flexibility to modernize and further upgrade the studio's state-of-the-art soundstages and high-tech film and television production facilities. These facilities are located on the studio's 56-acre lot and six studio adjacent properties located in Hollywood. In total, over its duration, the Project represents a potential $700 million investment in Los Angeles and is anticipated to generate $3.1 billion in economic output annually. Projected capital improvements are expected to create nearly 7,300 jobs during construction and 12,600 jobs during operations.
Over the next several months, Paramount will reach out to the local community, its neighbors and stakeholders to provide information and answer questions about the Hollywood Project. In addition, the studio will work with the City of Los Angeles and its agencies as part of the project's comprehensive environmental review process. The Project will be subject to a thorough review and hearing process with the City of Los Angeles, during which the public will have various opportunities to participate.
"For nearly 100 years, Paramount Pictures has made movies that are loved around the world. To continue to do that successfully, it is critical that we give our talent and staff the tools and technology they need to remain innovative in our approach to filmmaking," said Brad Grey, chairman and chief executive officer of Paramount Pictures Corporation. "As the last major studio physically located in Hollywood, this project is fundamentally about maintaining a robust and healthy entertainment industry in Los Angeles, laying the long-term foundation to preserve and grow jobs and employment in the heart of the entertainment industry, as well as ensuring that the legacy and heritage of this iconic studio are protected for future generations."
This long-term plan allows Paramount its first opportunity to take a cohesive look at its entire studio lot to improve production synergy and efficiencies that are critical to the future. The Paramount Pictures studio lot is located at 5555 Melrose Avenue, bordered by Gower Street to the west, Van Ness Avenue to the east and Hollywood Forever Cemetery to the north. Given the importance of the Paramount Pictures lot to Hollywood's history, the plan was designed to balance the needs of businesses in the future while protecting the historic and production core of the studio.
As a result, the majority of the current studio lot will remain the same with specific portions along Melrose Avenue and limited area within the production core identified as areas for future development. The project is designed to bring together production and support facilities within close proximity to improve collaboration and streamline operations including new technologically advanced soundstages with adjacent production offices; high-tech post production facilities; producer, talent and writer offices; a Leadership in Energy and Environmental Design (LEED) certified headquarters building; and production support facilities for storage and on-lot distribution of lighting, props and other services. The project also provides upgraded employee amenities including increased gathering spaces, parking facilities, production "basecamps," and improved circulation for studio trucks and trailers.
"Paramount Pictures has a long history of community involvement and is committed to making sure the community is an integral part of the process," said Sharon Keyser, senior vice president of real estate, government and community relations and the executive in charge of the project. "We look forward to working with our neighbors and other stakeholders as we begin to shape our future."