Drafthouse Films Acquires 1981 3D Spaghetti Western 'Comin' At Ya!'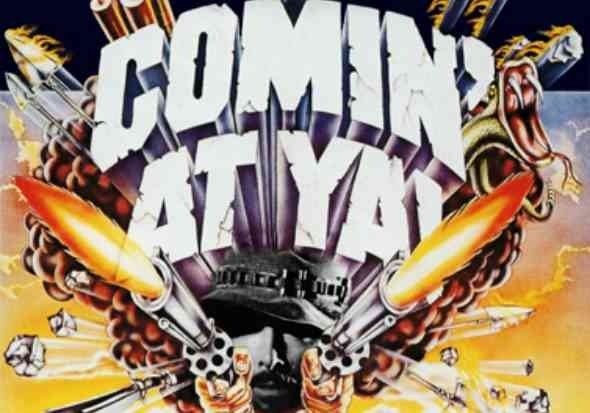 A semi-forgotten bit of weirdness from 1981 is the Fernando Baldi western Comin At Ya!, which was the first, and probably only, 3D spaghetti western. And now, after a successful run at Fantastic Fest, the newly restored film, with 3D re-done for a RealD 3D presentation, is coming to theaters courtey of Drafthouse Films.
The film is basically a revenge story that kicks off when a man's bride to be is kidnapped, leading to several rounds of table-flipping revenge. And it's all accompanied by what sounds like the most ridiculous collection of '80s 3D gags.
Drew McWeeny from HitFix describes the film:
What makes the film worth seeing theatrically is that it might be the most aggressively 3D movie I've ever seen in 3D... This is the old school of thinking about 3D, and in the Q&A afterwards, it's obvious that both Anthony and Stern think very little of modern 3D and what directors are doing with it.  This is 3Dsploitation, pure and simple, and even the opening titles are done as live on-the-set shots that push things right out into the audience with the various opening titles written on them.  It's hilarious, and the entire film is so earnest that it's hard not to laugh.  It's just fun and ridiculous and so blatant about the 3D stuff and so adventurous in terms of things it tries that I ended up really won over by it.
Here's the press release from Drafthouse Films:
The Highest Grossing Independent 3D Film Of The 1980s Becomes First Fully Restored Classic 3D Film Using State-Of-The-Art RealD™ Technology
DRAFTHOUSE FILMS LOGO Drafthouse Films. (PRNewsFoto/Drafthouse Films) AUSTIN, TX UNITED STATES
AUSTIN, Texas, Sept. 29, 2011 /PRNewswire/ — Drafthouse Films, the film distribution arm of the Alamo Drafthouse Cinema, announced the acquisition of North American rights to COMIN AT YA! 3D following the premiere of its stunning new restoration at Fantastic Fest 2011. In 1981, armed with exclusively developed, cutting-edge 3D technology co-writer/producer/star Tony Anthony enlisted Italian genre veteran Fernando Baldi to realize the first-ever 3D spaghetti western – a grindhouse-fueled tale of a vengeful gunslinger. Breaking indie box office records, COMIN' AT YA! 3D is credited with igniting a resurgence of studio-produced 3D films. Thirty years later, Anthony and producer Tom Stern of STERNCO 3D have broken new frontiers again with the first fully restored classic 3D film in high-definition, utilizing contemporary state-of-art RealD™3D technology. A limited theatrical re-release tour is planned for 2012."We felt that Drafthouse Films, with their young and aggressive leadership, combined with a new model for 3D distribution, gave us the best chance to reach both longtime fans of the film and new audiences," says Tony Anthony."In a barrage of flying arrows, snakes and old-school 3D thrills COMIN' AT YA! certainly delivers," Drafthouse Films director Evan Husney says, "and matching quintessential 80s-style 3D with cutting-edge contemporary technology is going to make for the ultimate 3D experience for movie-goers."
Check out the official website here.