No, Seriously, The 'Book Of Mormon' Movie Is Still A Long Ways Off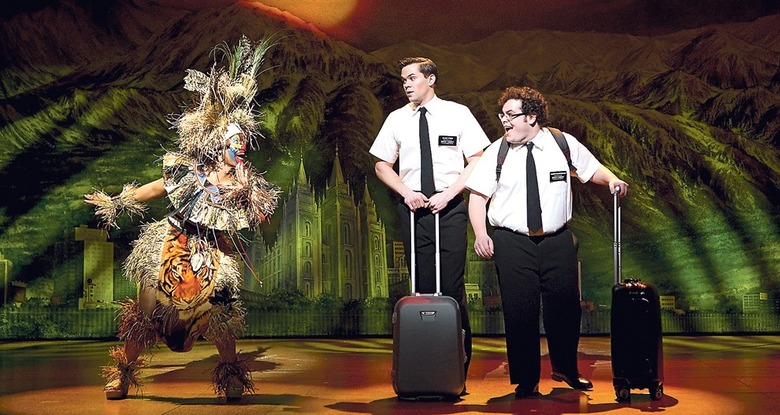 Well, we did warn you it wasn't going to happen anytime soon. Not long ago, we reported on an eventual feature film adaptation of The Book of Mormon, the award-winning Broadway musical by South Park creators Matt Stone and Trey Parker and Avenue Q co-writer Robert Lopez. At the time, we wrote that the movie was still several years away, but now it sounds even less solid than that. Stone and Parker have since clarified their statements, saying that the theoretical movie is not even in development at this point.
The hit show centers around two Mormon missionaries (currently played by Josh Gad and Andrew Rannells) who find themselves out of their depth when they're sent to do God's work in Uganda. More details after the jump.
However, the pair are now being careful to stress that while they may do a film adaptation eventually, they haven't started making plans for it yet, either. "We did a stage show and it worked out way better than we ever thought, and we'd like it to be that for a while, you know, without contaminating it with a movie," Parker told The Hollywood Reporter. He went on to explain that reports of an impending feature were simply a case of one interview response being blown out of proportion: "We said, 'Yeah, I think we could do a Book of Mormon movie,' and they were like, 'Book of Mormon Movie! It's coming!'"
Honestly, this doesn't change too much. Considering the runaway success of the musical, I'd be surprised if we didn't get a movie version at some point. But since we were already under the impression that the film was years off, it's not as though anyone was lining up to buy tickets just yet. If you were holding out hope that waiting a few years would get you out of traveling to New York City and pay for an expensive theater ticket, though, you may want to just bite the bullet. If it makes you feel any better, I can personally attest that it's totally worth it.