Mary Elizabeth Winstead, Aaron Paul, Octavia Spencer, And Nick Offerman To Get Totally 'Smashed'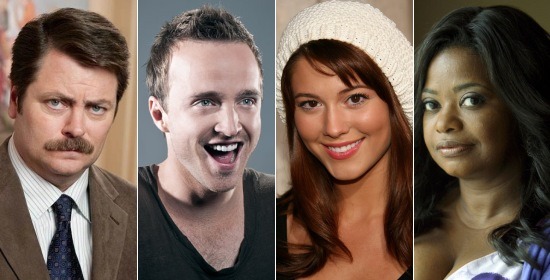 We write up casting stories several times a day here at /Film, but it's not every day we come across an ensemble cast as intriguing as this one. Mary Elizabeth Winstead, Aaron Paul, Nick Offerman, and Octavia Spencer are set to team up for the indie marriage dramedy Smashed, from director James Ponsoldt (Off the Black).
If you, like me and much of the Internet, are a fan of Scott Pilgrim vs. The World, Breaking Bad, and Parks & Recreation, I probably don't have to explain to you what's so exciting about that roster. Though I am torn between hoping that Smashed will allow them to stretch and demonstrate their range as actors, and wishing that I could just watch a movie about Ramona Flowers, Jesse Pinkman, Ron Swanson, and Minny Jackson from The Help hanging out. More details after the jump.
Fangirlish swooning aside, what interests me about this cast isn't just the fact that it consists of hugely talented actors from properties I love. It's also that each of the stars seems to be at a place in his or her career where things are going well, but may be on the verge of getting even better. Winstead plays the lead in The Thing, which opens next month, and will star in 2012's Abraham Lincoln: Vampire Hunter; Paul is likely on his way to earning his second Emmy on Season 4 of Breaking Bad; Spencer earned raves for her recent performance in The Help and may even get an Oscar nod come awards season; Offerman has become a fan favorite as gruff manly man Ron Swanson on Parks & Recreation. I've got my fingers all of them will be able to leverage their current buzzworthiness for ever bigger, ever better gigs in the months and years to come. Working with each other seems like a good way to start.