Disney Adding 'Avatar' Attractions To Theme Parks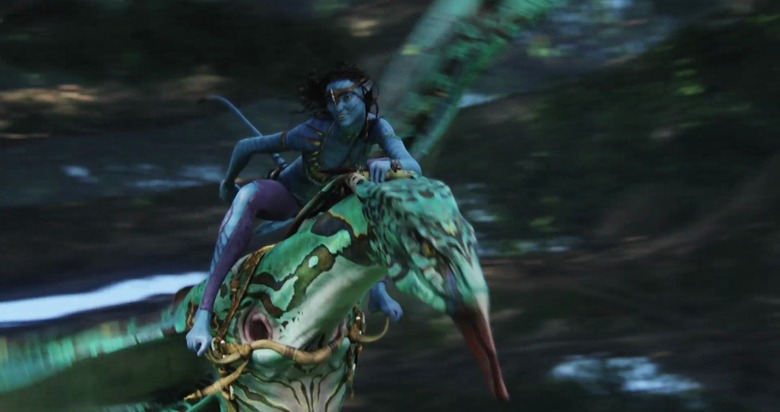 When James Cameron's Avatar hit theaters in late 2009, one of its most talked-about aspects was its ability to really bring audiences into the world of Pandora through stunning cinematography, cutting-edge 3-D and graphics, and exquisitely realized details. The world was so beautifully rendered, in fact, that stories started circulating of fans who were heartbroken that Pandora didn't actually exist.
Well, Pandora still isn't real, but soon it'll become a place you can visit. The Walt Disney Co. is reportedly on the verge of announcing a plan to bring the Avatar universe to its theme parks, starting with Disney World in Orlando, Florida. More details after the jump.
The move is a bit unusual for Disney, which usually builds its theme parks around its own properties — its Star Wars- and Indiana Jones-based rides notwithstanding. That said, it's not difficult to figure out why they wanted in on this franchise. Avatar is the single highest-grossing movie of all time, with $2.8 billion in worldwide earnings.
While I personally didn't care for Avatar, this actually sounds like a pretty good idea. Whatever you thought of the characters or storyline, the lush, intricately detailed world of Pandora was one of the film's highlights. And Pandora actually seems like a place consumers might want to visit, more so than some fantasy universes. The planet's unique look should help set it apart from all the other theme park attractions, while the film's action sequences should lend itself to some fun rides. (I am sure we are going to get some machine that attempts to replicate the experience of zipping around on an Ikran. Though hopefully without that weird hair connection thing.)
Discuss: Will you visit Avatar-land at Disney World? I totally would... but only if I were already in town visiting Harry Potter World.