Cool Stuff: 'Battlestar Galactica' Top Gun Mug Replica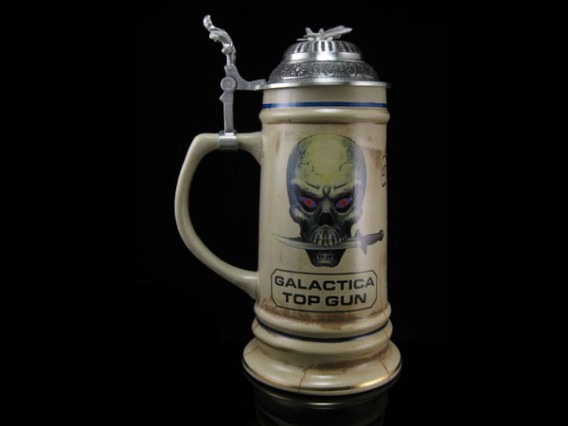 After a long day of flying around in a Viper attempting to preserve the precious few human beings left in the galaxy, a pilot needs a drink. And the best of the best drink out of this. Quantum Mechanix Inc. has created a 1:1 prop replica "Top Gun" stein from Battlestar Galactica, perfect for pretending you just wasted some frakkin' toasters and need to kick back. Check out a gallery of images after the jump.
These images come from QMx Online (via Badass Digest).
Click here to preorder the stein, which will run $59.95. That's expensive, but not crazy for a high quality prop replica like this.
Here's the description from the site:
Now you can join the elite legion of ace Viper pilots with your own coveted Battlestar Galactica Top Gun Stein.
This exact 1:1 scale replica of the screen-used prop re-creates in ceramic and metal the trophy reserved for only the best of the best: Galactica's top gun Viper pilot.
The Battlestar Galactica Top Gun Stein stands 9 inches tall and is 4 3/4 inches wide at the base. It lists the pilots who achieved top gun status, including Starbuck and Kat. It even includes the phoenix emblem on the underside of the cast-metal lid.
The stein's body is kiln-baked and feels substantial in your hand. It's the perfect vessel to toast fellow hot shots — or to hold your morning coffee.
Our stein has been tested for food safety and can be used for beverages. We recommend hand washing to best maintain its hand-painted finish.
If you bought this, would you actually drink out of it or keep it as a memento of one of the best sci-fi series' of all time?