Casting Bits: Stephen Moyer In 'The Barrens;' Josh Gad In 'Thanks For Sharing;' Massive Voice Cast For 'Postman Pat'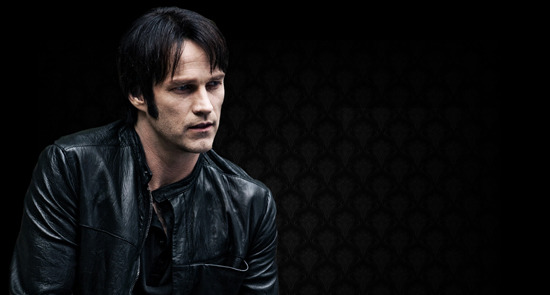 One of the weirder American monster legends is that which concerns the Jersey Devil, which originates in the 18th century, but became one of the breakout American pop-culture monsters thanks to reported sightings in the early 1900s.
Now Stephen Moyer from True Blood will star in a new film exploiting the legend: The Barrens. He'll play a family man who, while on a camping trip in the New Jersey Pine Barrents, "becomes convinced [he and his family are] being stalked by the legendary winged monster that looks like a deformed hybrid of several different animals." Darren Lynn Bousman wrote and will direct; the film shoots later this month in Toronto (what, not in Jersey? boo!) and will be released next fall by Anchor Bay. [Variety]
After the break, The Book of Mormon star Josh Gad joins Thanks For Sharing — a movie about sex addiction — and Rupert Grint and David Tennant will voice characters in the CG Postman Pat movie.
Josh Gad scored a Tony nomination for his work in Trey Parker and Matt Stone's outrageously popular The Book of Mormon, and now he'll join Mark Ruffalo, Gwyneth Paltrow, Tim Robbins and Joely Richardson in Thank You For Sharing, a film in which "a group of unlikely friends try to recover from sex addiction and forge meaningful relationships."
Josh Gad will be "an unrestrained sex addict with a strong appetite," who fakes his way through several recovery programs until Mark Ruffalo sponsors him and helps get him out of his addiction. Stuart Blumberg co-wrote with Matt Winston and will direct. The film shoots in New York this month. [Variety]
Finally, and in a completely different mode, we've got the voice cast for the Postman Pat film, Postman Pat: The Movie – You Know You're the One, which will translate the popular British children's stop-motion animation character to the screen. A press release announced Stephen Mangan (Episodes, Green Wing, Dirk Gently) as Postman Pat; and Jim Broadbent, Rupert Grint, and David Tennant as supporting characters. Here's how the financing company describes the film:
The film finds Pat, everyone's favourite postman, coming face-to-face with the temptations of money, status and a shiny new suit when he enters a national TV talent show competition that threatens to tear him away from his hometown of Greendale and the friends he loves. What happens when kindness meets selfishness?  When local fame meets global notoriety?  A nice cup of tea is kicked aside by a frappacappucino?    Pat is set to find out as he falls for the age old temptation of the grass being greener...