What Did Christian Bale And Terrence Malick Shoot In Austin This Weekend?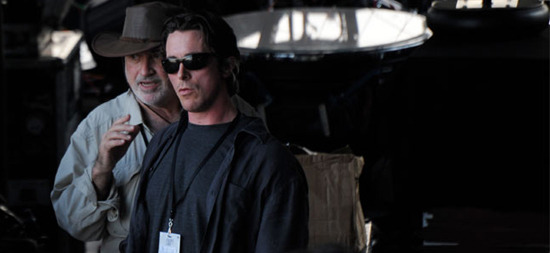 Not long ago, we heard that Terrence Malick has a new film brewing with Christian Bale. Almost nothing else was known about the project — no real story, no timeline, no other cast details. Over the weekend, we got what seems to be the best possible confirmation of this project as Malick and Bale were spotted all over the Austin City Limits music fest. A camera crew was following the two and actress Haley Bennett, recently said to be the frontrunner for the female lead. Malick was also photographed with camera in hand.
We still don't know any real details of the story, or even if this was essentially a test shoot. Given that Bale is still shooting The Dark Knight Rises we didn't expect to learn anything new about this for a while, so this collection of images is an unexpected surprise. Photos and video of the director are exceedingly rare, so for Malick fans the collection of photos and video that we have below will be a hell of a lot more enticing than all the superhero movie set photos that crop up on a daily basis.
Here's a small gallery that features the best photos of the crew:
[No photo]
Most of the photos and video come via Twitter, collated by The Film Stage. Various tweets report that Malick, Bale and their crew were backstage or at the side of the performance stages during the sets played by Pretty Lights, Bright Eyes and Coldplay.
One Film Stage commenter said,
I was at ACL today, watching Iron and Wine. We were standing next to the soundstage, where there is a fenced-off area that VIPs and staff use to get access to the sound and camera area. Christian Bale, Haley Bennett, Terrence Malik and several cameramen walked into this fenced-off area and filmed for about 5 minutes. Christian stood very still, staring straight ahead, or at the sky. Haley danced around him waving a long black cloth around. We all thought it was very strange, and took photos.
Here's some of the only video you'll find of Malick working with actors on 'set':