James Franco Adapting 'Child Of God' By 'No Country For Old Men' Author Cormac McCarthy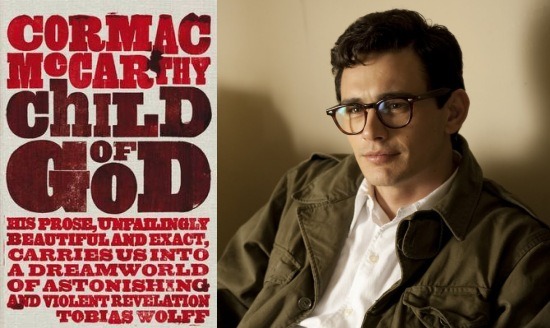 You may recall that some months ago, James Franco was gunning for a job directing Blood Meridian, the acclaimed fifth novel by No Country for Old Men author Cormac McCarthy. Although that project never really materialized, Franco apparently hasn't given up his dreams of tackling a McCarthy book. The actor/director/writer/producer has now shifted his attention to another novel by the writer, titled Child of God. More details after the jump.
The test that Franco mentions is some footage he shot months ago with actors Dave Franco, Mark Pellegrino, Scott Glenn, and Luke Perry. Franco said previously that he had shown the reel to producer Scott Rudin, who had "loved" it. It's not clear why Blood Meridian fell apart, but it sounds like we shouldn't expect to see that story hit the big screen any time soon.
Child of God is McCarthy's third book, and sounds every bit as disturbing as you'd expect from the guy who wrote The Road and No Country for Old Men. Here's the Wikipedia summary:
Set in mountainous Sevier County, Tennessee, Child of God tells the story of Lester Ballard, a dispossessed, violent man whom the narrator describes as "a child of God much like yourself perhaps." Ballard's life is a disastrous attempt to exist outside the social order. Successively deprived of parents and homes and with few other ties, Ballard descends literally and figuratively to the level of a cave dweller as he falls deeper into crime and degradation.
If you're thinking "Well, that doesn't sound that bad," Wikipedia also notes that "[o]ne of the novel's main themes is sexual deviancy, specifically necrophilia and pedophilia."
If Child of God gets made, it'll be the fourth time one of McCarthy's novels has been adapted into a feature film. His stories have met with mixed results at the box office: While No Country for Old Men was obviously a huge hit, grossing $171 million and picking up the Oscar for Best Picture, neither All the Pretty Horses nor The Road performed well. (The latter despite mostly positive reviews.)
Though Franco has made his fame and fortune as an actor, he's demonstrated a strong interest in working behind the camera as well. Franco recently completed two films, The Broken Tower and Sal, and he announced last month that he was set to direct a documentary about the fetish site Kink.com.