VOTD: 'Star Wars' Stands Up To Cancer With Emma Stone, Seth Rogen, Aziz Ansari And More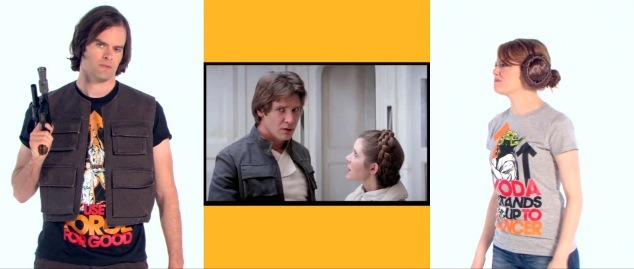 Aziz Ansari, Emma Stone, Andy Samberg, Ed Helms, Seth Rogen, Zach Galifianakis, Ken Jeong, Jamie King and Samuel L. Jackson are all Star Wars fans just like us. Unlike us, they're all big stars, some of whom are even part of the Star Wars universe itself. They also all appear in a brand new video to help promote a bunch of charitable ventures between Lucasfilm and Stand Up To Cancer. Fans can buy t-shirts, bid on super rare Star Wars collectibles and more with proceeds going to the charity.
Find all the appropriate links as well as the video – which is basically the above stars doing a comedic reenactment of the original trilogy in 3 minutes – after the jump.
Thanks to FirstShowing for the heads up. Here's the video.
Great stuff, don't you agree? Kinda reminds you why you enjoyed Star Wars in the first place.
All the information on the Use The Force For Good campaign can be found at their official website, www.standup2cancer.org/usetheforce. There you'll find links to buy the t-shirts in the video as well as to eBay where you can bid on items like a one-of-a-kind Star Wars edition 2012 Volkswagen Passat and dinner with filmmakers including George Lucas, Francis Ford Coppola, John Lasseter, Chris Columbus and Phillip Kaufman. Lord knows many of us would pay big bucks to break bread with George and give him a piece of our minds. Now you can, and it's for a good cause.
Plus Major League Baseball is having Star Wars nights at several of their stadiums to benefit the charity. Click here to find out about those games.
Despite the bad connotation surrounding the Star Wars Blu-rays, videos and projects like this are great examples of the positive effect Star Wars will always have, no matter how different the movies get.